The two powerhouses Albouystown/Charlestown and Christianburg will clash for a spot in the final of the Mackeson National Super Wards Basketball Champion-ships when the second semi-final takes place tonight at the Cliff Anderson Sports Hall.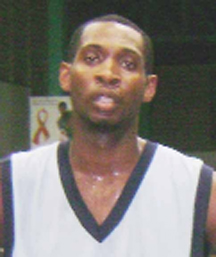 These two teams will meet tonight for the first time in the tournament amidst great anticipation among basketball fans. The stakes in the tournament are high, with the tournament's winners taking home $500,000.
Albouystown/Charlestown emerged as the top team in Group B when they defeated Christianburg's Linden counterparts, Central Mackenzie by 14 points on Saturday. Albouystown/Charlestown are currently 4-0 in the tournament and are highly favoured to win tonight to set up a Georgetown versus Linden final. Central Mackenzie booked their place in the May 4 final when they toppled the highly-rated North Ruimveldt side by seven points on Sunday night.
From the opening night, Albouystown/Charlestown established themselves as major competition when they completely demolished East Bank by 37 points. No other team has been able to top the 96 points they scored in their game against East Bank.
Kevin 'Two Feet' Joseph, Rodwell 'Kobe' Fortune and Dwayne 'Sugar' Roberts have established themselves as the backbone of the high-scoring Albouystown/Charlestown line-up. All three players recorded game high scores against their past opponents, but they have not met a side as challenging as Christianburg. The stiffest challenge the Albouystown/ Charlestown line-up has had to date was in their game against Wortmanville/Werk-en-Rust, a match which they won in overtime by 14 points.
Christianburg , on the other hand, have to date conceded one loss in the tournament, which was in their last game against North Ruimveldt. This, however, should not deter them going into the semi-final.
Christianburg's all-star guards Trevor Profit and Nevin Grenville have been among the top scorers in all of their games in the tournament.
They were also aided by their experienced centre Nkossi Gorrick and Quincy Jones who turned up the heat against East Cost with a game high 23 points when he released the ball into the basket with pinpoint accuracy.
Tonight's match is expected to be played in front of a large crowd, with supporters from Georgetown and Linden expected to flock to the Sports Hall.  Before the feature match-up, there will be a veterans' exhibition game between Pioneers and Demerara Panthers. (Floyd Christie)
Around the Web