By Marlon Munroe
Just when the shock of the humiliating defeats against Zimbabwe was starting to dissipate, the West Indies, once again, went from a position of complete dominance to lose by seven wickets against New Zealand in their lone warm-up match before the ICC World T20 championships at the Guyana National Stadium yesterday.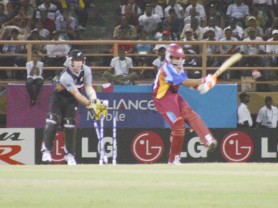 The Caribbean boys had done well to restrain the Kiwis to a measly 124-8 but were unable to capitalize on a 68-run opening partnership between Shivnarine Chanderpaul and Chris Gayle and stumbled to 117 all out in 19.4 overs. Ross Taylor made a resilient 50 and Jacob Oram finished with 46 not out after evaluating the workings of the slow pitch.
The disciplined bowling attack, which only gave away one extra, was led by left- arm spinner Sulieman Benn's 2-12 (4). Right arm pacer Ravi Rampaul and Darren Sammy ended with returns of 2-18 (4) and 2-38 (4) respectively, while Dwayne Bravo had 1-25 from his four overs.
When the West Indies started their response Chanderpaul's 53, which included six boundaries (4×4, 2×6) and Gayle's belligerent 35 (4×4, 2×6), were only supported by a late order 15 from Andre Fletcher; the next best score was four. The other characters of the Windies' unpredictable line-up produced spineless performances, contributing a mere eight runs among them.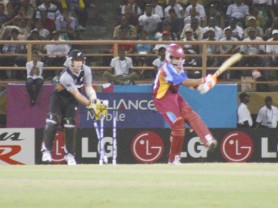 With the World Cup a day away, New Zealand warmed up with another win and this time the chief orchestrator was medium pacer Scott Styris who took four wickets for an economical 18 runs. New Zealand Captain Daniel Vettori, despite taking some stick earlier in the Windies innings, returned later in the innings to end with figures of 2-46 (4) while right-arm medium fast bowler Jacob Oram chipped in with one.
The West Indies team seemed poised to measure up to Gayle's words of "stamping their authority early" when he was batting with Chanderpaul. The innings got off the ground with a turn into the onside by Chanderpaul off opening bowler, off spinner Nathan Mc Cullum, who was also paddled around into the onside by Gayle for two doubles.
With the breezy start the two raced to 45 in six overs, as compared to the Kiwis' 24-4, with Chanderpaul surpassing the explosive Gayle, who struggled at times with his timing. Chanderpaul brought the Providence crowd to its feet when he reverse swept Vettori for six and then a four and later drove him down the ground for four.
Earlier, Gayle plastered Vettori, the most economical bowler of last year's World Cup (5.33 at an average of 11.63), for a boundary straight back past him and then lifted him back over his head in the same over for a six.
Testimony to Gayle's struggle for his characteristic clean hitting was a mishit that went for six in the square leg region.
when he attempted the same shot off the next ball, he was bowled.
What followed was a characteristic WI collapse: Bravo (3), Ramnaresh Sarwan (1) and Narsingh Deoanarine (1) were all gone by 90 after 68-1.
Chanderpaul, after an admirable innings and raising his half century, was dismissed with a spectacular catch by Aaron Redmond on the long-on boundary off the bowling of right-arm pacer Shane Bond. At 98-5 the batsmen's quick walks to the wicket were just as rapid back to the dugout as wickets fell in clusters in front of a stunned crowd.
When New Zealand batted after winning the toss they must have rued that decision because they were soon perilously poised at 37-6. But a gritty 60-run seventh wicket vigil between Taylor and Oram rescued their team from a more disgraceful total.
They showed their mettle as they manoeuvred on the stadium wicket before Taylor finished with four balls going over the ropes and two staying within for his even 50. Oram's undefeated 46 was decorated with three fours and two sixes.
Around the Web