Recently crowned Caribbean Scrabble champion Fred Collins yesterday won the Guyana Association of Scrabble Players (GASP) sponsored Labour Day Open tournament held at the Malteenoes Sports Club pavilion.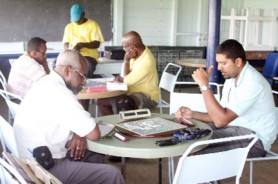 Collins won five matches and drew one in the Swiss System tournament to end with five and one half points and a positive spread of 540 points.
Moen Gafoor with three wins and two losses and a positive spread of 148 took the runner up position ahead of Orlando Michael who also ended with three wins and two losses but whose positive spread of 103 relegated him to third place.
Ewart Adams, Colin Chichester and Elton King placed fourth, fifth and sixth respectively.
The top three finishers were each awarded trophies.
The GASP will on Wednesday stage the Arrival Day Open tournament at the same venue.
Around the Web