By Floyd Christie
After flexing his way through seven compulsory poses and clashing with Guyana's best bodybuilders in the overall pose down, Royston Booker was adjudged winner of the second Hugh Ross Classic (HRC) Body Building and Fitness Championship held Sunday night at the National Cultural Centre.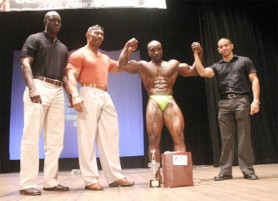 Minister of Culture, Youth and Sport, Dr Frank Anthony, briefly addressed the audience as he opened the evening's proceedings  where a number of local strongmen from various gyms across Guyana vied for the HRC title.
In the end Booker stole the show after captivating the judges with his well-defined physique. Hailing from the Guyana Motor Racing and Sports Club gym, Booker also won the heavyweight category and flexed his muscle mass to take away the overall title from Devon Davis, Marlon Bennett, Alfred Jordon and Rawle Green, who were the other category winners.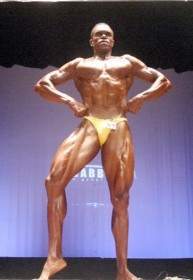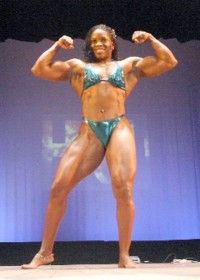 Several contestants from the Guyana Defence Force (GDF) gym participated in the championship and their gym recorded the first win of the evening after Davis's powerful display in the bantamweight category.
Bennett, out of the Total Fitness Gym, and the Central American and Caribbean bodybuilding silver medalist in the bantamweight category, proved the successful outcome of hard training after he stepped up to emerge winner of the lightweight category.
The bodybuilders from the Total Fitness Gym continued to display their fitness further up the scale in the welterweight category which was won by Alfred Jordan while Buddy's Gym strongman and veteran sprinter Rawle Greene sprinted off with the light-middleweight title.
In the female category, national sprinter Alisha Fortune out of the GDF Gym was the HRC Ms Body Fitness winner and she showed that her legs can also give her awards off the track when she received a special trophy for the best legs to the cheers and chirps of attendees.
The evening also saw added entertainment from guest posers, Sylvon Gardener and the previous HRC title holder Mark Perry. Gardener came out to the cheerful screams of his supporters and did not disappoint with his muscular and artistic display. However, Perry was put on the spot after being introduced on stage because he was not slated to participate, but was well received after removing his formal attire.
Also gracing the stage guest-posing for the audience was Trinidad and Tobago's female professional bodybuilder and reigning Central American and Caribbean champion Candice Carr-Archer who wowed the audience with her display.
Special awards were also presented to the HRC Sponsorship and Finance Officer Dexter Garnett and Lindy Sharpe for their role in the HRC and Bodybuilding Championship. Ross then expressed his thanks to the sponsors, athletes and fans for helping to make the HRC a success.
At the close of the championships Ross stated that pending clarification with the body building federation fans can look forward to seeing athletes from overseas at future HRC championships.
Around the Web