On July 16, 1973 two youths, Jagan Ramessar and Parmanand Bholanauth were gunned down while trying to prevent armed agents from removing ballot boxes from the New Market Primary School at Number 63 Village, Corentyne.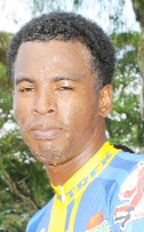 Today, a 55-mile cycle road race in their memory will be staged in Berbice.
The race, which is sponsored by Chris Jagdeo and organized by national cycling coach, Hassan Mohamed, (MS), will commence outside Freedom House, New Amsterdam at 9am, proceed to Corriverton Police Station before returning to No. 63 Village for the finish.
The multi-category event is expected to attract cyclists from across Guyana.
According to a release from the organizers, the veterans, upright and female cyclists will finish on the upward journey at 60 Village.
Last year's Open category winner Warren Mc Kay has been in fine form and is expected to be among the contenders for the top spot.
McKay finished last year's event in two hours, five minutes and 31 seconds and will no doubt be looking to better that time.
While Mc Kay is expected to be in the thick of things in the senior category, last year's junior division winner Geron Williams is abroad and will be absent from this year's event.
As such, the junior category should be a straight fight between among Paul DeNobrega, Christopher Holder and Berbician Neil Reece.
Naomi Singh will be looking to successfully defend the female title she won last year while Lyndon Blackman will be looking to reclaim the veterans' title.
The first six senior finishers will receive prizes, while the first three juniors, three veterans and three upright cyclists to cross this finish line will also receive prizes.
Eight prime prizes will also be up for grabs during the course of the race.
There will also be a presentation of three special prizes to the first female, veteran over 60 years, and the oldest cyclists to complete the distance.
Around the Web