The Guyana junior girls' and boys squash team reached the team finals at the junior Caribbean championships in the Cayman Islands yesterday.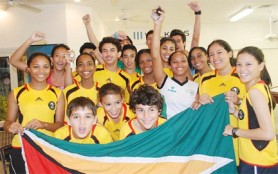 According to the Squash site website, the Guyana girls team, boasting three Caribbean junior champions, cruised into the final with a 5-0 drubbing of Trinidad and Tobago dropping just two games en route.
In the two U-19 singles matches Caribbean U-19 champion Ashley Khalil defeated Jessica Scott 11/5, 11/1, 11/6 while Keisha Jeffrey stopped Emily Farah 11/3, 11/2, 11/4.
Caribbean U-17 champion Mary Fung-a-Fat then put the issue beyond doubt with a  11/3, 11/8, 11/3 win over  Talia Abdool.
In the two remaining dead rubbers Victoria Arjoon defeated Charlotte Knaggs 11/8, 11/7, 8/11, 11/5 in their U-15 clash while Taylor Fernandes got past Faith Gillezeau 11/9, 11/8, 7/11, 11/7.
The Guyanese will oppose Jamaica who got past Bermuda 3-2 in the other semi-final in today's final.
In the boys' semi-final the Guyanese defeated  Trinidad and Tobago 4-1 to set up a revenge clash with the Cayman Islands who defeated the OECS 5-0.
In the match against Trinidad wins from Deje Dias, Jason Ray Khalil, Jean Claude Jeffrey and Patrick Fraser saw Guyana through.
Trinidad's lone win came in the first U-19 match when Alex Arjoon went under to Kale Wilson 5/11, 9/11, 6/11.
Thereafter Dias defeated Chayse Mc Quan 15/13, 11/8, 8/11, 11/4; Khalil beat Mandela Patrick 8/11, 11/0, 11/13, 13/11, 11/9, Jeffrey beat Nku Patrick 12/10, 11/9, 15/13 and Fraser got the better of Chad Salandy 11/9, 9/11, 12/10, 11/9.
Around the Web