The Elcock stable for the third consecutive race meet produced the winner in the feature event at the Norman Singh Memorial Turf Club horse race meet on Sunday at Bel Air Park No. 6, West Coast Berbice.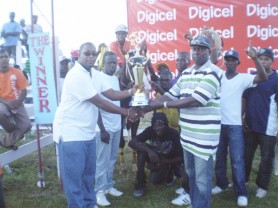 The Message, mounted by Paul Delph, won in convincing fashion the feature C class Banks DIH sponsored 1400m to take away $450,000 and the Banks DIH trophy. Tropical Passion, of the Moothu stable, was second while Home Bush Baby and Sweet Revenge were third and fourth respectively.
The main supporting race for horses bred and born in Guyana was won by Jen's Pride of the Steve Moothu Rumour's racing stable. The horse was ridden by Jamaican jockey Michael Findlay, who guided the animal from gate to pole to take the $330,000 top prize in the 1600m event. Celebration Time of the Elcock stables placed second ahead of Sabrina Pride and Zelona.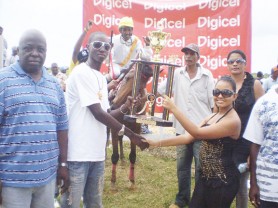 In the two-year-old 1000m event for animals bred and Born in Guyana and the West Indies, Better than Gold of the Jagdeo stable took the pole position and the $250,000 first prize ahead of Big Impact, Irish Girl and Pay Day. The F class 1200m event was won by Night Crescendo ahead of Top of the Line, Laura Lee in Flight and Mamzelle and the race offered $240,000 and the Guyenterprise trophy.
The G&H class 1200m race ended in controversy as Maracas Star of Jumbo Jet stable and Prixie Fire of the Customs Stable were declared  joint winners.
The Gap and One of a Kind were the other top finishers in the event, which had a winning prize of $200,000.
Dream Girl, ridden by Mark Vassie, won the I class event and the $140,000 cash winnings in a close finish ahead of DE Gump, Stormy Water and Lyana. The Digicel sponsored race for maiden and non winners was won by Little Spike of The Lenny Singh Stable from Mona Lisa, Savion and Royal Time.
Lenny O Halo of the Beaton Stable took home the $120,000 in a close finish in the Division 2 and 3 1200m event ahead of Black Beauty, Nobody Knows and Natural Black.
Meanwhile, the Elcock Stable and Rumour's Racing Stables were the outstanding stables while apprentice jockey Mark Vassie and the season's top rider Yap Drepaul were outstanding during the day's proceedings. They received prizes from Ramesh Sunich of the Trophy Stall, Bourda Market.
Around the Web