– fails to qualify for 100m final
Promising sprinter Chavez Ageday will hope to have better fortunes when he participates in the 200m heats of the International Amateur Athletic Federation (IAAF) World Junior Championships in Canada after being eliminated from the 100m on Tuesday.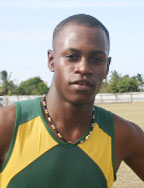 Ageday, running a time of 10.87 seconds in the U-20 100m, on Tuesday failed to qualify for the 100m final at the Moncton championships.
Ageday, who departed Saturday for the meet, was the only athlete selected by the Athletics Association of Guyana (AAG) to represent Guyana at the Championships, which began on Monday and will run through to Sunday.
Ageday was met in Canada by Andrew Harry, who travelled from the United States of America and is acting in the position of manager, president of the AAG Colin Boyce told Stabroek Sport.
According to Boyce with no athlete in Guyana making qualifying times to attend the Championships, the AAG was allowed one "wildcard" entry and Ageday was the lucky selectee.
Ageday was selected to represent Guyana in the 100m and 200m races at the meet, and the 16 year old is scheduled to participate in the 200m preliminaries today.
Ageday's coach, Raymond Daw, related that while he felt Ageday could've done more he was nevertheless satisfied with the performance of his athlete.
Moreover, Daw stated that he felt that Ageday's performance was analogous of the training that he had received prior to his departure.
Daw stated that he would've been more contented if he was able to install a more firm circuit of training with his athlete before his departure.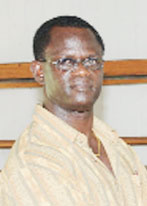 However, this was hampered by the inclement weather which prevailed over the past few weeks.
"I am satisfied with his performance. It is not his personal best, but I wouldn't say it was bad. We had some setbacks with training because of the weather, and I would've liked for him to be a little more prepared." Daw related.
Moreover, Daw conveyed that he felt that his athlete was apprehensive over having to travel alone and this may have played a role in the athlete's performance. Daw stated that it was related to Ageday that he would habe have travelling out of Guyana alongside the AAG secretary, Claude Blackmore.
However after a change of arrangements it was disclosed that Ageday would travel alone and be met by Harry in Canada.
Responding to this remark, Boyce stated that there was not anything that the association could do as the "heavy cost factor" played a vital role in the change of decision, to instead have Harry meet Ageday in Canada.
Boyce explained that while the cost to have Ageday attend the meet was being shouldered by the IAAF, the expenses of the travelling official had to be borne by the AAG.
Subsequently, it was calculated to be cheaper to have Harry, who is the President of the overseas based Athletics Association of Guyana, drive over to Canada rather than have Blackmore be flown over alongside Ageday.
Ageday is one promising athlete that has slowly been making his way up in the athletics arena in Guyana over the past few months. Ageday was amongst the Guyana contingent at the CARIFTA Games and was the only athlete who represented Guyana at the South American Under-23 Championship held in Columbia earlier this year.
Additionally, Ageday has already been selected by the AAG to represent Guyana at the Youth Olympic Games (YOG) which will take place in Singapore next month.
Ageday will be expected to run the 100m at this event and Daw has pledged that he will be working vigorously with Ageday upon his return.
"He [Ageday] has a meet coming up in Singapore, the Youth Olympic Games, and he is running the 100m there as well, so we will definitely be focusing on trying not to repeat this. We will be more focused on that," Daw stated.
Around the Web