PORT OF SPAIN, Trinidad, CMC – The Trinidad and Tobago Cricket Board (TTCB) wants government here to examine the possibility of creating a lottery to fund sporting entities.
Azim Bassarath, who heads the TTCB, said the Barbados Cricket Association (BCA) had benefitted from a lottery system of funding and had been able to undertake the recent ground-breaking move of offering central retainer contracts to its players.
He says while there were similar plans in the TTCB pipeline, finance had proved to be the hiccup.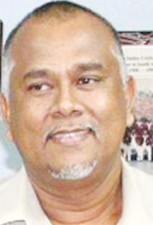 "While the Barbados Cricket Association must be [applauded], we must understand that they are in a better financial position to offer retainer contracts to their players," Bassarath said.
"We have plans to retain about 18 to 20 cricketers here but in order to do that we will have to engage the Ministry of Sport or the SPORTT Company to assist."
The Sport Company of Trinidad and Tobago (SPORTT) is the implementation arm of the Sports Ministry, and is responsible for the funding of programmes and the construction and maintenance of facilities.
Last week, the BCA took the unprecedented decision to offer 15 players – 13 men and two women – central retainer contracts in a move aimed at providing job security for the players and professionalising the sport.
"The Barbadians share in the proceeds of their lottery system and I think it is a very good idea for the government of T&T to look into," said Bassarath.
"In this day and age, where there are so many social ills in our country, the government should realise that sport and culture can play an integral part in curing the ills and hence they must invest more heavily into these areas.
"I think that proceeds from the lottery and lotto should be used to assist sports and cultural bodies so that they can reach out to more people and make a positive difference."
Around the Web