The Kashif and Shanghai football tournament makes a return to the place where it all started over two decades ago.
The Mackenzie Sports Complex (MSC) Ground in Linden will come alive once again tonight when the remaining two quarter final spots are decided.
The action will commence from 6pm with a double header that involves some three Linden teams.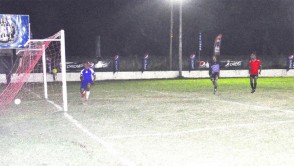 With three of the four teams in action from the mining community what is certain is that at least one Linden team will advance to the next round. That team will be either Netrockers or `The Chosen Ones' Milerock.
If the clash between these two teams is not enough to draw almost the entire football community in the area to the crowd then the feature event certainly will.
It is fair to say that it is Bakewell Topp XX and not Milerock that Lindeners would choose if they were to watch a Linden team in action.
The five times Kashif and Shanghai champions will wrap up tonight's proceedings against Barbados' Caribbean United at 8pm.
Bakewell Topp XX might be eight-time finalists but no one knows what to expect from tournament newcomers Caribbean United.
According to reports Caribbean United includes a few Guyanese players that may have knowledge of the opposition.
However, the Topp XX side remains focussed and seens to think they are well prepared for any challenge which comes their way.
They were seeded eighth in this year's Super League tournament but on Sunday displayed terrific organization to defeat Ann's Grove in the final 16 qualifier.
Earlier in the night, Linden fans will take solace in the fact that although one Linden team is sure to be eliminated, one will also advance.
Netrockers went into action on Friday and defeated Bakewell Buxton Stars in another final 16 qualifying match.
The squad looked relaxed and well organized whilst still playing with urgency which could be a major factor in helping them gain the upper hand over Milerock.
Milerock, on the other hand, will look to maintain their good track record against Netrockers as the two time Kashif and Shanghai champions will definitely like to continue the form they have acquired being second to Alpha United squad in the National Super League.
Around the Web