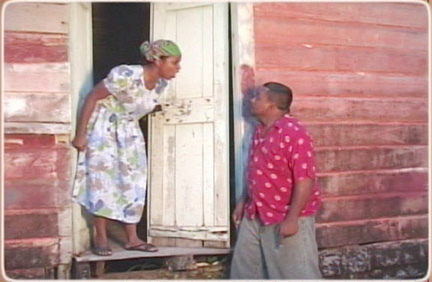 (Continued from last week)
Tiwari and Yarde were strong leads in Neaz Subhan's production of Sheik Sadeek's Black Bush, with the ability to capture both situation and characters convincingly.  So much were they in command that they took naturally to the language which helped to create the characters and environment.  Sadeek could not reproduce Creolese and occasionally ended up with an unconvincing version of Standard English, but the actors were able to find speech rhythms comfortably and convince.  In the other two plays Sadeek had a tendency to have his characters philosophise and expound upon the issues that he wanted to treat in the play.  In Namaste, Kerrimaria Phang as Beena bore it stoically and brought it off as a part of her disposition as an educated girl, while it was fitting for the white manager's son (Chris Gopaul).
In that same setting, one of the most strikingly promising performances came from Teri Ann Phang as Beena's precocious little sister whose language was natural, unlike that brand given to her sister.  But what is more, she created the role with scrupulous and delightful detail and fresh energy.  The play, however, is one of dark determinism in the story of the academically gifted but impoverished Beena making a sacrifice to stay home to care for her sick mother (Sherry Ann Dyal) while refusing an offer of marriage from the manager's son.

Namaste is about race, colour and class, selfless devotion, loyalty and tradition.  It does not give the optimism of the other two and suggests that the people have no way out of the cycle of poverty that afflicts them like the illness of Beena's mother.  On the other hand, Goodbye Corentyne proceeds for most of its plot with a bleak situation that works itself out in a happy and satisfactory resolution.  Similarly, Black Bush shows that the struggling peasants have a way out which they can achieve with initiative and diligent work.  The rain that arrives at the end is another symbol of their ascendancy.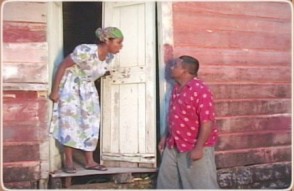 In Goodbye Corentyne a city girl with academic qualifications and a desire for professional studies (Rushella Edmonson) follows the tradition of her people and is married off by her father to a youth from a Corentyne country village (Michael Ignatius).  She gets bored with the rustic domestic life, against which she rebels in her husband's house, and the parochial conflicts with the country girls, convincingly played by Keisha Narine and Narda Mohamed.  She decides to turn her back on everything and go away, but has her mind changed by the subtle intervention of a painting.  Claude, the keeper of the local bar (Derek Gomes), is an artist painting a mysterious portrait that means a lot to him and is to represent all the hope and promise of the place in which he lives, but he is stalled because he cannot find "a face" to put in it which would represent his concept.  He eventually asks the frustrated wife to pose for the portrait, which she does.
Mona Lisa-like, the mysterious painting that Hassan hears about and eagerly looks forward to seeing, turns out to be a portrait of his wife.  Furthermore, she buys it from Claude and presents it to her husband as a birthday gift, plastering over the differences between them and saving their threatened marriage.  She changes her mind and decides to stay with him, while for his part, he decides to use his inheritance to give her the university education she had wanted.
Sadeek challenges traditions that seem to keep the already afflicted country people in bondage.  He uses the painting as a symbol of the power of the artist in society to reflect that society, but also to raise issues that pose questions about it.  In this play the painting is a force of rescue and resolution.  Gomes manages to pull off the unlikely combination of a barman in a village rum shop doubling up as artist with the language and discourse to expound on the role of the artist in society.  Ignatius, as Hassan, proved that he has developed a very long way from a comic actor who could do little more than be comical.  He gave a serious, controlled performance.
The only little issue is with Subhan's statement in the Programme Notes that "today's youth" may "find it difficult to appreciate life back then."  There are such things as history, research and education.  Those youths cannot expect to live only in the narrow confines of their immediate times.
Around the Web