Born on Leguan Island, Bibi Khan now resides in Canada but for the past four years she has been returning annually to Leguan to spend a month during which time she holds training sessions for youths and gives whatever help she can to seniors and children.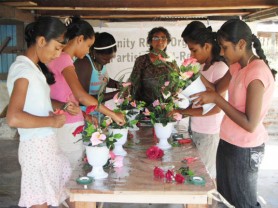 At first, Bibi would donate money to impoverished persons on the island. However, because she could not afford to help all those really in need, she set up the Leguan Community Relief Organisation, which she registered in Ontario in 2008, in order to "do and give more to the needy."
The NGO has not been registered in Guyana because at first the persons she approached to take up positions, resisted being in the forefront. However, after her last visit here, during which time she spent five months, she was able to encourage the women to take a proactive role in bettering their lives. Next year, she expects to undertake its registration locally.
As part of the outreach to garner support for her efforts, Bibi has entered into a partnership with Human Concern International (HCI) based in Ottawa. HCI participates in relief assistance programmes, health and education projects and women empowerment projects. It focuses on eliminating poverty, improving livelihoods and social conditions, supporting gender equality, and encouraging participative practices.
"The community has responded very well, I have full support from the Neighbourhood Democratic Council (NDC) and region members, as we are giving skills to the women of Leguan," Bibi said.
On her most recent trip, she conducted a course in floral arrangement for six in-school youths and their mothers. The aim was to provide them with life skills which they can utilize during the upcoming Christmas season to gain income.
Since there is no community centre in the community, she rented a house to hold the training course. She also sponsored a trip to Neesha's Flower Shop, so that they could see examples of other works and how to apply what they had learnt.
Bibi indicated that previously several youths benefited from training in catering where they learnt to make guava cheese, fried rice and 'fruits' from carambola (five-finger), among others. The expenses associated with acquiring the inputs were borne fully by her organisation.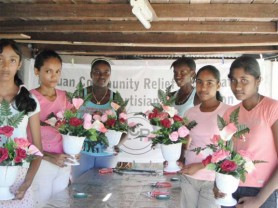 When she returns next year, she hopes that she will have a bigger group and plans to teach them to make cushions, pillow cases and bags.
After a chance meeting with the owner of Pandama Wines Warren Douglas, she was able to secure a promise from him that when she returns, he will visit the island to teach some women how to make wines using local fruits.
Before leaving the country, Bibi secured a meeting with Minister Robeson Benn requesting that Leguan be put on the list to receive mangroves to replant around the island. This led her to a meeting Dr. Oudho Homenauth of the National Agricultural Research Institute (NARI) whom she asked for spices for her group to plant. It is expected that by January next year, the group would be in receipt of spices such as turmeric, ginger and black pepper for them to plant.
"My dream is to build a community centre," Bibi said while noting that this is her biggest goal. While she may be overseas, her vision is to have the centre fully functional and staffed which will benefit the residents so that they can produce all their pieces in one location. Once she would have finished the centre, she hopes that residents on the island would become more involved. She added, "I hope that I can succeed."
Around the Web