Starr Computer Inc has commenced collaboration with the internationally renowned information technology company Samsung under a recently concluded distribution agreement by hosting two of the South Korean giant's personnel to conduct training for its staff in the areas of technical support and administrative services.
Samsung Service Manager Aldo Ramos and Andreas Angel of the company's Latin America Technical Support Division last week conducted training exercises for staff of the local company who will form the core of Starr's support team to effect the new distribution agreement.
The training conducted by Ramos is intended to familiarise the Starr team with details of the administrative arrangements associated with interfacing with Samsung in matters relating to the service contracts between Starr Computer and local purchasers of Samsung equipment.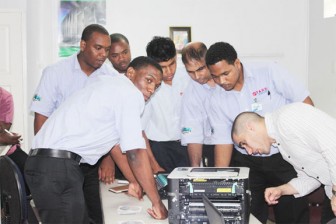 Angel's training assignment involved familiarising local Starr technicians with some of the range of Samsung equipment that will be available to local consumers under the distribution agreement.
Starr's Chairman and Chief Executive Officer Mike Mohan has told Stabroek Business that part of the range of Samsung equipment that will be available in Guyana under the agreement reached between the two companies, including computers and printers, is already on display at Starr's Brickdam office.
Additionally, Mohan disclosed that Starr will now be fitting its own locally assembled computers with what he described as "a number of high quality Samsung components."
While several Samsung products are already available on the local market, Mohan explained that the conclusion of a distribution deal between Starr and the giant IT product and service provider was the first of its kind to be done locally.
The advantages, he said, included the creation of "a direct link" between local consumers and Samsung, which he said provides the important element of "consumer security" in terms of warranties and commitments to servicing and repairs of purchases under warranty.
Meanwhile, Mohan told Stabroek Business that work has already begun on the setting up of a Samsung Shop at Starr's Brickdam location, "to allow consumers to access the full range of Samsung products that will be imported into the country.
Mohan said he believed the advent of the agreement between Starr and Samsung coincides with the "maturing" of the IT culture in Guyana and with the importance of having structured access of service arrangements with an internationally renowned IT company.
Stabroek Business has also learnt that arrangements are underway for the visit to Guyana by a senior Samsung official to coincide with Starr's staging of a display of Samsung products during this month's Building Expo.
Around the Web