For more than 50 years a Bourda Market bush seller and her family have provided Guyanese with local plants including barks and roots and herbs for use as natural remedies for aches and pains.
Every day Sharmila Mohamed, known to many as the "Indian Bush Lady", spends 12 hours at the busy market front selling herbal remedies for maladies ranging from the common cold to diabetes. On any given day she attends to the needs of more than 50 customers.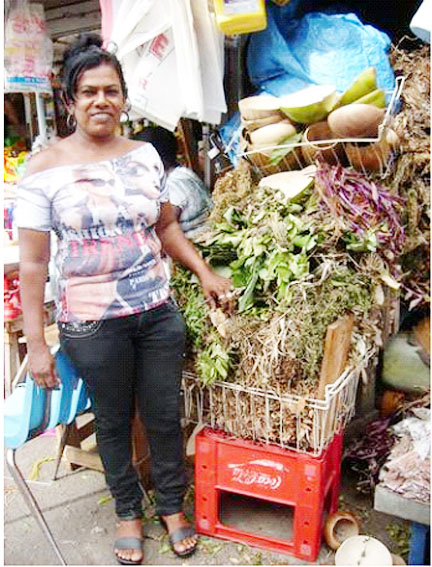 Mohamed has been in the "bush selling" business for more than 25 years. Before she took over the family business it was operated by her mother and before that, her grandmother. It was her grandmother who started the trade more than five decades ago. "Is the women in we family that start this trade and keep it alive. I been operating the business for over 25 years now but I grow up in it and I am over 40 years old," Mohamed said. It is as much a proud boast as a statement of fact.
When her grandmother started selling bush at the market, it was just a tiny establishment. The woman stacked small bundles of dried bushes and a few bottles of "boiled medicine" on a little table. Today, the establishment occupies four stall spaces along Bourda Street and offers a wider range of herbal remedies and products to the customer. As herbal remedies have become more popular having been embraced even by conventional doctors and other care givers, sales have increased. Bush medicines have now become as much an integral part of care-giving as a lucrative commercial pursuit.
The herbs which Mohamed uses to make her potions come from Guyana's hilly sand and clay region. "Sand bitters", "Lemon Grass", "Daisy" and "Cure for All," some of her more popular offerings are gathered at various points along the Soesdyke-Linden Highway. Some are washed and boiled, cooled then poured into sterilized plastic bottles. Honey and other natural ingredients are added to some of the potions. The bottles are then labelled and taken to market. A batch of the herbal medicine has a turnover rate of about a week. Other herbs are sun-dried and  tied in bundles to be sold. Many of the leaves and vines like "Fever" and "Zep" grass, "Tulsie" and the leaves of the pear tree are used to make tea. The bark of the capadulla tree is also used to for tea.
Not all the herbs are gathered from their natural habitat. In recent years, Mohamed's small business has created a backward linkage for small farmers. Because there is a demand for more herbs than she can gather, she has established a chain of small suppliers.
Selecting the herbs is a discipline in itself. "Since I was 15 years old or so my grandmother teaching me which and which bush to combine to make medicine for different things. I can make potions for more than 12 kinds of [health] complaints. When the week up I does use a lot of bush and I don't have the yard space to plant for myself so I does buy from the farmers. At least so I does help them make a lil income as well."
As Mohamed spoke with Stabroek Business she attended to her customers, about five customers within a half-hour period. A middle-aged woman stopped by to collect two litres of pre-ordered bush medicine. The woman, who declined to have her name published, said she had been using the potion for more than a decade. "I been buying it right here all these years. Is a Guyanese thing, you know. We Guyanese like we lil bush medicine to clean out the inside and so. I does drink the medicine and make the bush tea too. Since I small my grandmother used to make this thing but I can't make and it easier to buy," she said. This middle-aged customer is one of hundreds who buy her products, Mohamed said. She further explained that her customers come from across society.
The elderly woman drifted off and Mohamed continued."Rich people, poor people, not so poor people, Indian people, African people, even Amerindian and Chinese people does buy bush and bush medicine from me," she said. Like her mother and grandmother she has made a life-long commitment to the trade. "I like the trade. All kind of people does come to me and I does get to reach out to them and touch their life and help them in some lil way you know and that is what I like about what I does do," Mohamed said.
Stressing the safety of her remedies, Mohamed said she and members of her family use most of the herbs and potions that she sells and have been doing so for years. She further explained that the herbs are consumed only in liquid form and can be easily disposed of by the body's excretory glands.
A few stalls away from Mohamed's establishment there is another family selling similar products. They are her only major competitor in the Bourda Market. She wants to expand her operations to the Stabroek Market but said that the acquisition of suitable space there is a problem. She has made applications several times, all to no avail. "There is definitely demand for what I does sell. Is a difficult craft and not a lot of people know how it does do," she said.
Around the Web