The Guyana Telephone and Telegraph Company (GT&T) is partnering with Starr Computers to make what the latter's Chief Executive Officer Mike Mohan anticipates will be "a significant information technology input" at this weekend's Building Expo, scheduled to open today at the National Stadium, Providence.
Earlier this week Stabroek Business spoke with Mohan and Starr General Manager Rehman Majeed, both of whom said they were looking forward to the outcome of a collaborative effort that was seeking to link a wide range of high-quality hardware being offered by the company with the GT&T Broadband service.
Last month, Mohan announced that Starr had clinched a new distribution agreement with the South Korean information technology giant Samsung and during this week's interview he disclosed that the company would be displaying part of its new Samsung range of products including the Galaxy smart phones. The collaborative effort will also feature Starr's new X-finity Green PC, a compact low energy desktop computer designed for rural areas. Mohan said that he was particularly enthused over the prospect of "showing off" Starr's new Green PC since it is designed "for use where electrical supplies are limited or unreliable and is ideally suited for clinics, schools, community centres and solar installations". The company envisages that the new PC can play a critical role in advancing access to information technology in interior areas where there has been an ongoing build out of solar installations.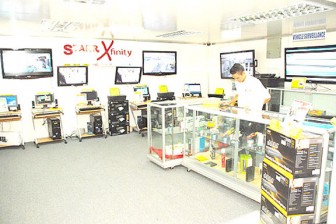 And according to Majeed the presence of an information technology input at this year's building expo is particularly "relevant" given what he believes is the linkage between new homes and the need for supporting technology. Majeed said the Starr/GT&T partnership will also feature a range of security technology which will rely on inputs from both companies. "One imagines that with so many new homes being erected under the various housing projects there will be a need for security and surveillance technology and Starr and GT&T are seeking to provide that input," Majeed said.
Meanwhile, Mohan said Starr will also be using this weekend's Building Expo to familiarize visitors to the event with its new Starr X-finity Power Centre outlets. Sponsored by Starr in collaboration with a number of local and international partners including Republic Bank, GT&T, Samsung, Lenova, Q-See, APC and Hewlett Packard the power centre outlet project seeks to provide prospective entrepreneurs with an opportunity to own power centre outlets. Mohan said the project seeks to target mostly pre-existing entrepreneurs primarily located outside Georgetown who may wish to expand their business operations. The outlets will work directly with Starr to market what Mohan says will be "a range of high-quality products provided by reputable suppliers". He said power centres are particularly well-suited to small to medium-sized communities and small investors since they require modest start-up investment, small floor space and carried limited risk.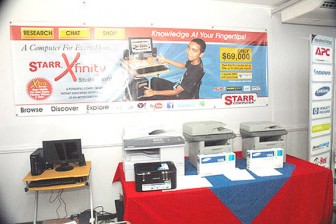 According to Mohan, investors in power centre outlets will benefit from international and domestic branding partnerships and will acquire access to more than 1,000 products stocked by Starr Computers. Profits, he said, could reach as high as 30 per cent.
During this weekend's Building Expo, Starr Computers will also be promoting its X-finity Student Edition launched recently with considerable success. Mohan said he believed the student edition computer, which is being promoted with the support of Republic Bank, offers students and workers the opportunity to own computers with the support of a reputable commercial bank. Starr has been collaborating with the bank to provide loans for students seeking to acquire computers. Mohan told Stabroek Business that he was particularly pleased with the "positive reviews" he has received from this project.
Around the Web