"It's a slow dollar but it's better than working with people and it keeps me out of trouble," says Keith Stanley, a 45-year-old man who repairs shoes and umbrellas.
Stanley has been plying his trade on a plot of land opposite the Central High School at the corner of Leopold and Smyth Streets for 10 years.
Enlarging on how he became involved in the trade, Stanley described how he used to watch his friend who operated in the 'Big Market' make his living that way. After getting into trouble with the law and ending up in jail, he learnt the trade of repairing shoes while incarcerated.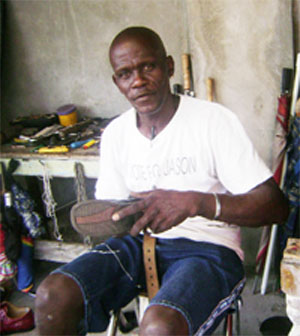 "I use to do stupidness on the road following friends, and end up going to jail," Stanley said. He was about 25 years old when he was sent to jail: "Prison is a hard experience to explain; being in there is a different thing… when I come out I decided to hold ma corner and do ma thing." However, he had stayed out of trouble since he began to earn his living by repairing shoes.
He stitches, resoles and recaps shoes. Later on, he related, he picked up the trade of repairing umbrellas from "an Indian boy who use to operate at Water Street. He teach me how fuh fix up umbrellas, and I pick up the trade from he and say this could come in handy."
Now every morning from 6am to 5pm, Stanley is outside under a makeshift tent surrounded by shoes and umbrellas. It's a job he said he enjoyed doing. "I love this job; the reason why – because you don't have a boss."
Stanley told SN that he was committed to what he did, so he was always out Mondays to Saturdays come rain or shine: "Only way I don't come out is when I sick."
He noted that the business he was doing was, "to help in the completion of ma own house over the river. Is nah a big wuk, but at the same time I thankful for small mercies, and like old people say one, one dutty build dam."
During his 10 years at the Smyth Street location, Stanley said he had witnessed many accidents and attempted robberies, and had even thwarted a few robberies: "I don't mind ya doing ya thing, but I don't want ya doing it in front of me."
"Business is good [but] every day is nah catching day," Stanley went on, but nevertheless considered his location ideal. A lot of his customers were teachers, students and police officers.
As Stanley stitches a boot, next to him sits his wife with a small confectionery stall catering to the schoolchildren. Several Central High School students visit her to buy pickled fruit.
Stanley said that when he spoke to the youngsters he told them that crime did not pay and encouraged them to find a legal way of earning a living: "I tell them crime out hey don't pay; it aint mek sense. Ya gah hold a corner, learn a trade and earn a honest living. When you do this you get more respect and it's better for you."
Around the Web