According to Carl Davson, 44, "My grandfather is the founder. He normally do plumbing work…"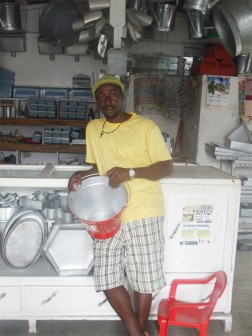 Each member in the Davson family has learnt how to bend the galvanised sheet into pots, buckets and feed cans, among many other things.
Davson, along with his uncle, 59-year-old David Davson, has been running the store which David says has been in existence for over 15 years.
According to David the business is "keeping my head above the water. The things we produce is of domestic purpose and everybody crave for it."
"I'm proud that we can keep the family trade alive," he added. He said that some of his children are in Barbados living prosperous lives off a similar trade.
"I learn the trade since I was six. From school I went straight to the workshop," David related. "It was in Barr Street, Albouystown that my father use to make it at home before we came to this location."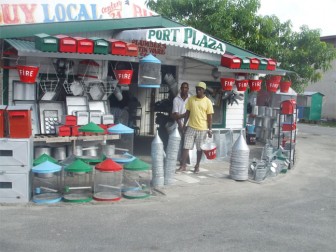 "I really love making these things; it's nice but hard sometimes," he said.
Meanwhile, Carl Davson said that he first learnt the trade back in 1982, and that is all he has ever known: "From the time I leave school I join the workshop and I find that I enjoy it and I never did anything else."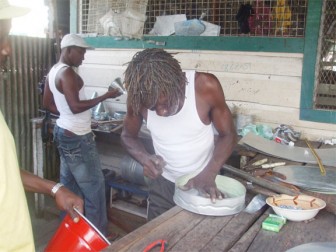 The Davsons teach the trade to persons in their Albouystown community and offer employment to about seven persons at the small store. According to Carl Davson, the family has a small outlet in their home community.
Over the years, the Davsons noted, the business has grown, despite the ups and downs.
Comments
Since the festival of Christmas commands a pre-eminent position – of observance and celebration – on Guyana's Annual Calendar of National Events, I thought I'd pen a few lines to provoke thought and meditation relevant to the "Real Reason for the Season".

To mark the anniversary of Martin Carter's passing on December 13, 1997, Gemma Robinson looks at Carter's Poems of Succession, published 40 years ago this year.
By Naicelis Rozema-Elkins It is about time, past due in fact, that the problem of sexual assault by teachers in our school system is addressed.

Focus on Guyana's National Budget 2018 represents the twenty-eighth edition of this Ram & McRae annual publication which highlights, reviews and comments on the major issues surrounding and raised in the National Budget.

By Mark Leonard LONDON – Over the last few weeks, media around the world have been saturated with stories about how technology is destroying politics.