From as early as 4 am, 56-year-old dhal puri maker Tony Favourite is at work at his 4585 Roxanne Burnham Gardens home, kneading an estimated 50 pounds of flour, which will give him 400 dhal puris.
Favourite, well known as 'Puri man', a father of 12 has been making puri for over 18 years. It is a skill he learnt from his father. However, he did not take it up until he resigned from the Guyana Police Force (GPF).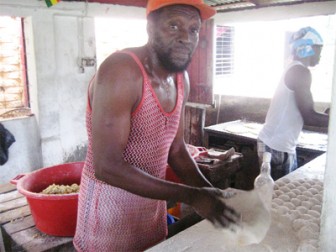 Favourite, who was married twice, said he tied the knot with his first wife when he entered adulthood at the age of 21 years old.
As young man with a growing family to provide for, he found that the GPF was not the place for him to be. By the time he had six children to maintain, "I didn't have my own home back in the days. So I had to find money for rent and bills… Working as a policeman was a job that hardly brought in money."
His father, Richmond Favourite, who is now retired from puri business, taught him everything he knows. "My dad was a popular puri maker back in the days. He used to sell outside of the Plaza Cinema. I born and met my dad making puri." Favourite said his father's business was called 'Tony's' and his father named him after his business. Making puri, he said, has allowed him to provide handsomely for his family. The proud father said he had no difficulty rising early in the mornings, because his family was his motivation.
He spends six hours a day mixing flour, peas, garlic, pepper, geera and other essential ingredients for a mouth-watering dhal puri. "I have someone who supplies me with the boiled ground split peas… They grind the peas and I add all the ingredients," he said.
Not wanting to take all the credit, Favourite said he has an apprentice, his nephew, whom he described as an excellent puri maker. The boy, he said, hopes to one day follow in his footsteps.
Favourite said his popular puris are not just made for resale at his roadside stall at Roxanne Burnham Gardens, but also for agencies and other food outlets. He also does catering for weddings, birthdays and other occasions.
Reflecting on his humble beginnings, Favourite related that he has succeeded in transforming his business over the years. "When I first started making puri, I baked it on the coals fire. But girl it used to black up my place. So as time passed and my business grew I started using the gas stove. I don't have to worry about my place blacking up any more. I painted my place (puri outlet) and now my business is growing with the help of those
customers," he said.
At an affordable cost of $120 each, customers purchase the mouth-watering and belly-filling dhal puri. Even though it's a puri shop, customers have options. His wife, he said, makes potato balls, cassava fries and cold juices, which are all welcomed by his customers.
Favourite said his income now is more than enough to provide for his family, as he only has two minors. His other ten children are living on their own; some have even migrated.
"I am a very contented man. I am grateful for the income on a daily basis and it is enough to maintain my family… To me my job is more like a hobby it is something that I just enjoy doing."
Being self employed is one of the greatest things, he said, but one should always remember that one is in service to people. "If you have no customers you have no job and if you have no job, you can't earn any money," he said, stressing that customers are the assets of his small business.
Favourite has already passed his skill onto his children. In fact one of his sons has opened his own puri shop at another location. Puri making has turned into a Favourite family tradition which will be passed on to future generations.
Puri man said, making puri is not an easy task, but over the years he has grown to love and enjoy it especially when he sees the look of contentment and hears the comments from his smiling customers.
Around the Web