Upholstery is traditionally seen as a man's work, but single mother of five Winifred Watson who lives in Stanley-town, West Bank Demerara, does it along with some amount of joinery to provide for her family.
Winifred started to repair chair sets after her husband, a joiner, dared her to take up the challenge over 20 years ago. She set about opening the chairs, piece by piece, carefully looking at the way they were built and how best to repair the damaged sections. Winnie, as she is fondly called, told this newspaper that she was surprised to find that, "No matter that the chair might be looking beautiful on the outside; it does not necessarily mean that it was a perfect job. Often, when the beautiful fabric or cloth is removed, one is stunned by the presence of the material that makes up the outfit."
Nevertheless, she began to learn, day by day, how the chairs were made. She reviewed the various styles of the chairs that were entrusted to her, and assured this newspaper that no customer ever left her workshop disappointed. Winnie also recalled the days spent working alongside her now estranged husband in their workshop; he would repair the structures of the chairs while she sewed the material to cover them with on her machine. When he left the home, she was suddenly faced with providing for her three sons and two daughters alone.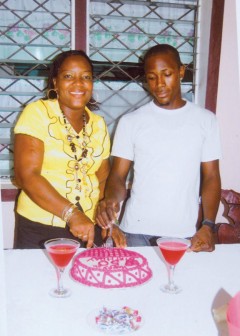 However, despite the hardships of single parenthood, Winnie persevered and today with her son Stephen taking on his father's role, she cleverly manipulates the raw cloth into designs that embellish the beauty of the chairs. Sometimes she also replaces damaged or rotten boards in the chairs and broken springs.
The woman said she worked while her children attended school and was pleased to point out that her daughters have achieved much success in the medical field while Stephen continues to work alongside her. She is also now a grandmother of two. According to Winnie, sometimes people come from as far as Canals Polder and even from the West Bank, East Bank and Georgetown to place their orders.
Winnie recently celebrated her 50th birthday and feels a sense of satisfaction serving the people of her community.
Comments
Since the festival of Christmas commands a pre-eminent position – of observance and celebration – on Guyana's Annual Calendar of National Events, I thought I'd pen a few lines to provoke thought and meditation relevant to the "Real Reason for the Season".

To mark the anniversary of Martin Carter's passing on December 13, 1997, Gemma Robinson looks at Carter's Poems of Succession, published 40 years ago this year.
By Naicelis Rozema-Elkins It is about time, past due in fact, that the problem of sexual assault by teachers in our school system is addressed.

Focus on Guyana's National Budget 2018 represents the twenty-eighth edition of this Ram & McRae annual publication which highlights, reviews and comments on the major issues surrounding and raised in the National Budget.

By Mark Leonard LONDON – Over the last few weeks, media around the world have been saturated with stories about how technology is destroying politics.