Taking its name from a Dutch eighteenth-century plantation, the farming community of Kortberaad is found just seven miles from New Amsterdam, although it seemed more remote than the official distance suggests. Apart from anything else, the road to get there made the trip appear longer, because the vehicle had to travel so slowly owing to the condition of the road and the need to dodge the potholes.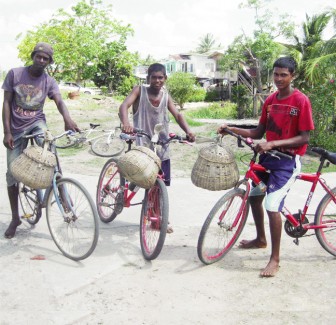 Pauline Durant, 73, is one of the hardworking persons in the village who still cultivates a cash crop farm and plants fruit trees, including cherry and five-finger to earn a living. It was truly inspiring too that Durant, despite being stricken with arthritis does all the work on her own. She has planted ochro, bora, plantains, cassava and other crops.
When this newspaper visited she was having lunch and she left her plate of metemgee to proudly show off her farm, located on the government reserve next to her home. She had to use the reserve because, "With all the fruit trees, I don't have space in the yard for anything else." When she reaps her produce, including the fruit she takes them to the market to sell.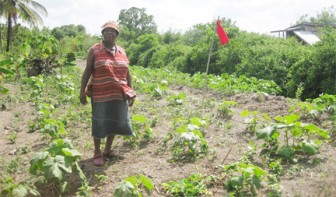 Working hard is nothing new to her because "I started working from age 13 and I am still working."  Despite her age and pain she said, "I can't sit down and depend on my children, because time is too hard… I am trying; I'm not giving up, I don't like to waste time."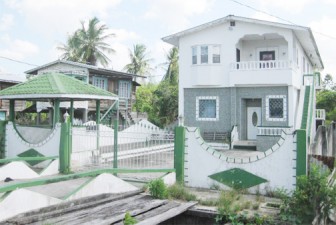 Durant who gave birth to 13 children (eight are alive), goes to her farm "early in mornings and late in the afternoons… and I sit on a bench and weed." She recalled that she dropped out of school to assist her single mother of four to "do all kind of hard work… I helped to plant farm, cut wood and plant rice in rain and sun…"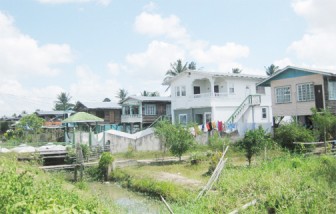 Pauline Durant's son, Phillip Kesney, 37, shares her home with his wife, Quebenna, and their three children, aged one, five and nine. But she cooks her meals separately because she wants to be independent and be able "to cook what I like."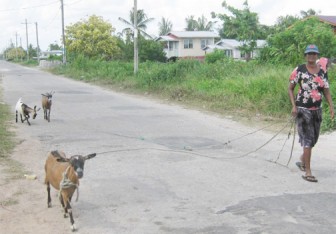 Phillip too is hard-working like his mother. He works as a cane-harvester with GuySuCo at the Providence, EBB canefield. But the money is not enough and he supplements his income by repairing shoes. The business is not too profitable though, because "people don't have money to even pay for the shoes and I would tell them to give me whatever they could afford…"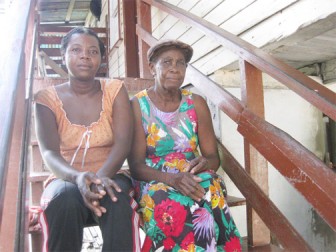 He did not learn shoe-making from anyone. In fact, nine years ago he just "woke up one morning and realized I had the skill." He started by repairing a pair of his own shoes.
He showed this newspaper a pair of sneakers to which he added "shocks" made from rubber slippers, after the original shocks had worn out. He said persons had encouraged him not to waste his talent, and he got down to work after creating the tools from old bicycle spokes.
Good road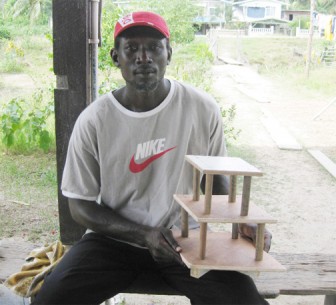 Pauline's sister-in-law, Stella Durant, 73, who lives across the road said the houses and the main road had once been located closer to the sea. Owing to constant flooding, however, over 10 years ago contractors GuyConstruct built a new 10-mile stretch of road from Everton to Plegtanker which they "passed through Friends' Village."
Residents subsequently started to relocate closer to the new road but Stella only moved about two years ago. She was sad that she had to leave a lot of her fruit trees  behind. Stella learnt that some sections of the road further up have been destroyed. She said the village is not governed by a Neighbourhood Democratic Council (NDC) and residents do not pay rates and taxes. The NDC operates up to Enfield, three villages away and the Regional Democratic Council maintains the road and drains.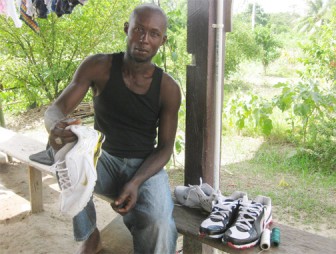 The EBB road was always known for being in a deplorable state but Stella commented that Kortberaad has "the best road." Other residents said they wished that the entire 27-mile stretch was like that, lamenting that government could have added $10M more to the $20M it spent recently to fix it and "do it properly. As soon as the rain falls it breaks up."
Stella, whose daughter, Lovern, lives with her along with her three children, moved to Kortberaad from Sisters Village at age 8. She attended Friends Primary School and walked a mile and a quarter to get there.
She later learnt to sew and earned her living as a seamstress. After she got married she started to engage in farming with her husband, who also worked as a cane-cutter. On Saturdays she took her produce to sell at the NA market.
Residents benefit from water and electricity and also access the services of both telephone companies. The village has three churches, a sluice, a play ground and a disco, nicknamed 'The White House' that operates only when residents rent it on occasion.
Some of the residents are employed in the nearby schools at Friends Village and at the post office and police station at Sisters. The village is divided into two parts; Part 1 which has houses and Part 2 which is unoccupied.
Dwain Kesney, 35, is also employed at the Providence estate as a planter. The work is slow, the wage is small and the tax is high, he lamented, and although he does not really like the job he has to do it to maintain his family.
A trained carpenter and mason, he would have preferred those types of jobs but they are not available. Once in a while persons would call him to carry out minor repairs to their homes, but he would have to "wait a long time to get paid."
Not wanting to waste his talents, Dwain also takes orders for wooden cake stands. When this newspaper caught up with him he was going to deliver a three-tier stand he had made for a wedding. Although it was only his third order for the year he was still grateful. His wife has skill in knitting and at times would help to supplement the income.
Junior Fraser, another resident who was born and raised in the village operates his own business. He runs a grocery at his home and also supplies firewood to GuySuCo.  He cuts the wood from land estate located aback of the village because "nothing else is there to do [on the land]." He has also found employment for four persons.
Fraser said he was engaged in cultivating a 50-acre rice farm but had to abandon it because of poor drainage. Three other large-scale rice farmers and other small rice farmers from the village were also affected.
One resident, Muriel De Velde, 58, said she "born and grow here," and that "we live in unity." She said too that the village does not have any problems and even invited this reporter to "come and live in the village."
Residents have a problem with cattle destroying their crops and recognized that it happens because there is no proper place for the animals to graze. They said government has a large plot of land at the back of the village and should give it to residents to use as a pasture.
Gaitree Nicholson, a housewife, was taking her goats out to graze close to the seaside. Apart from that, she keeps herself busy by planting a kitchen garden with peppers, boulanger and bora.
Farther up the road, three youths were riding their bicycles as they headed to the canal with baskets to fish. They would normally return with their catch in a few hours with fish like hassar and patwa to sell. While the youths in the area are mannerly, a resident is concerned that their lives are being destroyed by the use of unlawful drugs. He said a man in the village sells the drugs and that he needs to face the law to stop.
Around the Web