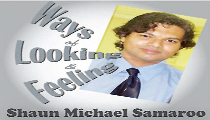 Sir Shridath Ramphal co-chaired the Commission for Global Governance with the Swedish Prime Minister Ingvar Carlsson in 1992.
The Commission published a report called Our Global Neighbourhood, which the United Nations approved, aimed at creating a system of global governance.
This kind of ambition comes out of our country.
President Cheddi Jagan in 1996 launched a global initiative he called the New Global Human Order, aimed at creating a humane global order that would see equitable wealth distribution.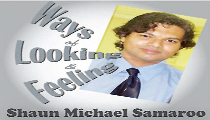 President Jagdeo has now jumped on the global environment movement, and works with Norway to see the world's forest resources sustained.
Countless Guyanese-born academics and leaders achieve outstanding world status.
This country stands on the edge of the Atlantic Ocean, basking in vibrant sunshine and lush rains, as a blessed land. We aspire for great heights.
Because of this, the citizens of the land express deep frustration and shake our heads puzzled and bewildered that the country ranks so low on so many international standards.
Why gross poverty dogs the land? Why people suffer from poor governance? Why is Georgetown such a nasty place, in 2011?
Of course, some folks blame Ramphal for his role in electoral laws during the rigged elections period, and others blame Dr Jagan for his communist ideology, while still others blame Jagdeo for an inept Presidency that did nothing to quell rising organized crime.
Yet, our people could in fact become a great nation.
Stabroek News ran a feature story in 1992 on the potential for the country to be energy self-sufficient. The newspaper interviewed Joseph O'Lall, the late alternative energy expert, for that feature.
O'Lall owned a library of books, studies and reports on this country's potential for hydro, wind and solar energy generation. He was the preeminent alternative energy expert in this country for two decades before his untimely death in 2008.
He could talk for hours and hours about the multitudes of waterfalls around the country's hinterland that could be converted to electricity-generation systems.
In the 1980's, the Burnham government failed to develop the massive Mazaruni hydro project.
O'Lall, who had returned home from his scholarship at university in Hungary with a Hungarian wife, chose to concentrate on developing a hydro-electric project, as a private citizen.
This calibre of people our country knows.
O'Lall faced the daunting task, determined, in full self-belief, that even as the government failed to develop a hydro-electric project, he would do so on his own.
For years he worked tirelessly and with amazing perseverance to knock down the red-tape and bureaucracy at the then Guyana National Energy Authority.
O'Lall found the idyllic mini waterfalls at Teperu, just outside Bartica, nestled quietly in the towering forest. He sourced financing, secured government permission, and built a hydro-project.
On weekends, he loaded his battered white SUV truck with food supplies, and along with Deonarine Chand and Tony Baichulal most times, drove to Parika, where he would board the crawl-slow ferry to Bartica.
At Bartica, he drove his SUV through rough trails to Teperu, pitched tent, put a pot of cook-up rice to boil, and started work welding and building the generation system.
O'Lall hired Baichulall, a young man who had just completed high school and worked as a trainee-welder, to weld the pipes and metal for the generating system.
After years and years of working at great personal sacrifice on this dream, Baichulall and O'Lall flicked a switch, and to their delight, a lone light bulb lit up the Teperu forest.
O'Lall networked with the new Cheddi Jagan government and after strenuous lobbying, secured the position of head of the new Guyana Energy Agency.  The rest is history. He died without realizing his ambition and dreams for this land to be a haven for alternative energy.
Our people dream. We aspire to greater things. Maybe we migrate in droves because we dream so much  to achieve a life beyond what we know.
Despite the political and economic turmoil that sees us stifled as the third poorest nation in the Western Hemisphere, ranked with Nicaragua and Haiti in poverty, our nation produced some outstanding titans.
From old-school business types such as Kayman and his son Beni Sankar in rice, the Mazarahally and Toolsie Persaud families in forestry, Sattaur Gafoor in manufacturing, and many others like Stanley Ming, Gerry Gouveia, the Vieiras and so on, we know what it feels like to excel.
Such a track record in individual initiative and such a history of countless 'rags-to-riches' stories, show us that we can rise as a nation. We endure in this belief as our destiny as a nation.
Peter C. Newman, a veteran Canadian Journalist, originated this concept of the importance of titans in charting a nation's course in the world.
He wrote a book at the turn of the century called "Titans", to probe how outstanding Canadian citizens shape and define Canada.
We ought to do the same for Guyana. Our outstanding achievers shape this society. Our titans become the engine that drives us forward. So we must know their story.
Like Newman did for Canada, we would inspire the nation telling the story of Kayman and Beni Sankar; of Yacoob Ally and his daughter Annette, whose work to preserve turtles has gained international attention; of the aviation pioneer Gerry Gouveia; of David de Caires in the media, and of so many others.
"Nothing endures. That's the law of history. Neighbourhoods disappear. Cities crumble. Countries fall from grace. But establishments abide", Newman concludes his third book on Canada's powerful, who, he writes, "own the country".
Our nation, too, has an establishment that "owns the country". And we would be wiser for telling their stories, for they define us as a people – our boundaries, our aspirations, our achievements.
The stories of O'Lall and his passion for Teperu hydro project; of Gafoor who pioneered a manufacturing sector for us; of Yesu Persaud and the Beharry family in banking; of Gouveia who showed us a new way to own the airspace; of Ramphal and Jagan and Burnham, those pioneers in political power.
These titans of the land build our nation's story, that mythology that defines the Guyanese, that makes us aspire to write a blueprint for the global village called Our Global Neighbourhood.
This writer could be contacted by email at beingshaun@gmail.com
Around the Web