A 47-year-old spray painter was the first road fatality in Berbice after an alleged drunken driver collided with his motorcycle while attempting to overtake another vehicle.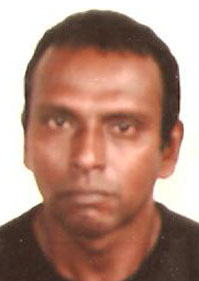 Rajkumar `Roy' Basdeo, who is based in Cayenne, returned home to spend the holidays with relatives and had only left his home minutes before the accident to prepare for his return to Cayenne.
According to reports on Sunday at around 7.35pm Basdeo left his Lot 25 Line Path, Skeldon home riding motorcycle CD 7055. He was heading north on the western side of the Number 78 Village public road when motor van GMM 1564 which was allegedly speeding in the opposite direction attempted to overtake another vehicle but collided with him.
Eyewitnesses said the driver, a known businessman, on realising the severity of Basdeo's injuries abandoned his vehicle and fled the scene. Basdeo was eventually picked up and taken to the Skeldon Hospital where he was pronounced dead on arrival.
According to his wife Heerawattee "Dolly" Ramrattan, 35, she and Basdeo have shared a common law relationship for six years. The woman said he spray paints, repairs boats and does fibre glass designs in Cayenne. Ramrattan said her husband would return home fortnightly and had done so to spend Christmas and ring in the New Year with her, her two sons and other relatives. She said Basdeo had been riding his brother-in-law's motorcycle when the accident occurred.
Basdeo is also survived by three adult children who reside overseas.
Around the Web