The water which flooded the bridge under repair at Friendship, East Bank Demerara has receded and traffic is flowing freely at the location again.
Deep craters in that section of the road were hidden by inches of water on Tuesday after a bypass close to the bridge eroded. When Stabroek News revisited the area yesterday the water had receded from most of the bridge and the eastern side of the bridge was open to traffic.
However, there was still about two inches of water in the front of the Didco compound and on its front bridge. The bridge is located just in front the Didco compound. Construction officials told Stabroek News that the water started rising after the "high tide stepped in on March 20 or 21". Water from the Demerara River flooded the Didco compound and continued rising until it threatened the bypass and then bridge.
The yards of some Friendship residents still had pockets of water and slushy mud but residents said this was due to some rain in the area yesterday afternoon.
"Things looking good… de tide raise back really… once we ain't get flood man we alright," one woman told this newspaper.
Residents in other nearby East Bank Demerara villages of New Hope, Craig and Good Success reported some amount of overtopping at major sluices during the first spring tide yesterday. However, several hours later their apprehension was laid to rest after the water level decreased.
Tractor pumps were deployed by the Good Success/ Caledonia Neighbourhood Democratic Council (NDC) to a koker at New Hope and one at the Craig/Good Success boundary. When this newspaper visited the areas after 4 pm yesterday both pumps were in full operation.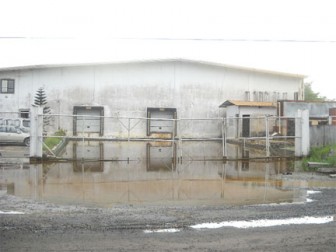 A pump operator explained that continuous efforts were being made by the NDC to pump water from the main drainage trenches into the river.
"We are trying to ease the strain on the trenches," the pump operator said.
Around the Web