Residents of Canje Creek and the Berbice River are running out of food, after suffering heavy crop and livestock losses to severe flooding caused by excessive rainfall.
Stabroek News spoke with Idabelle Johnson of Baracara, Canje Creek on Thursday and she noted that "if the floodwaters stay on the land for about one month we won't have anything to eat."
They have already lost produce from their cash crop and ground provision farms which have been inundated with over four feet of water.
Johnson has lost fields of corn, pumpkin, corilla, ochro and cabbage as well as cassava, eddo and sweet potato. After the water recedes, she said, they would have to find money to reinvest in their crops. She pointed out that the savannah is also covered with six feet of water and the cows have to be "swimming all the time… the water reaching them up to their necks. The calves swimming till they weary… many of them already drown."
The woman, who has lost six of her calves, said residents have had to go into the savannah with "a big boat and rounding up all the cattle and bringing them out close to the houses." Even there, they were struggling to find dry land for them.
She said they would go to the river front in boats to collect grass that floats down from farther up the creek.
Shortly after speaking to this newspaper, Johnson visited the office of Regional Chairman, Zulfikar Mustapha, who promised to address the situation urgently.
He told this newspaper that he plans to visit the creek on Wednesday along with a team of officials from the Civil Defence Committee and vets. He said too that he was not aware of the situation before and that he would see what assistance he can offer to the residents.
Johnson said that "in my 58 years and I never see that amount of water before." She acknowledged though that the administration "cannot do anything to relieve us of the water… We just have to wait until it go out on its own."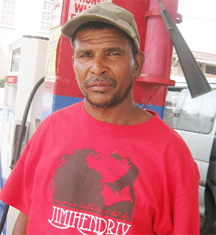 According to her, it rains a lot in the creek and the water was going inland. There was "no [dry] place to walk and the boats reaching up to the steps. The goats, sheep and dogs sleeping on the steps but the fowls were having no dry place to stay…."
She is using the rainwater she collects in a tank to bathe because the water from the creek "causing my skin to itch." Residents living in flat houses have had to relocate to upper flats with relatives.
Captain of De Veldt, Berbice River, Laxlie Lindie told this newspaper that it was the "worst flood I ever experienced… Everything under water… rain falling night and day in here."
He pointed out too that residents have lost all their crops and that there was nothing for them to do. They would just check their farms and feel discouraged, he said.
Residents were accustomed to using water from the creek for bathing and other domestic purposes. But toilets were overflowing and the water has become contaminated. Nevertheless, some persons have no choice but to use the water. Lindie said residents have to "abide by the situation because there is nothing else to do." He added that they were desperate and they were hoping that "someone from the government can come in and assist."
Anthony Lindie of Sand Hills, Berbice River told this newspaper that the "water is at a critical level because all the farms have been destroyed."
He said they have planted pumpkins, corn, peanuts and beans on a large scale and lost everything. He was worried about what would happen if the rain continues and said "starvation might step in so we hoping for the sun so we can start [planting] all over again."
He said too that "people are now wondering what next to do… there is nothing else for us to do… most people are into farming."
Around the Web