ALGIERS/BEIRUT (Reuters) – Forces loyal to Libyan leader Muammar Gaddafi eased their attacks on rebel-held Misrata yesterday after Western coalition planes appeared in the skies and hit some of their positions, rebels said.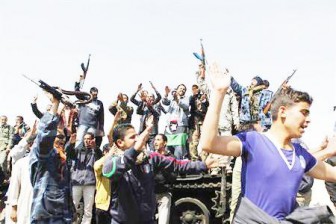 French warplanes destroyed five Libyan military planes and two helicopters at Misrata air base in the past 24 hours, France's armed forces said. Spokesman Thierry Burkhard said all seven Libyan aircraft were destroyed as they were preparing to carry out attacks in the area.
"The shelling has stopped and now the warplanes of allies are above the sky of Misrata. The shelling stopped when the planes appeared in the sky. It seems this is their strategy," the rebel, Saadoun, told Reuters by telephone.
He had earlier said that pro-Gaddafi forces had launched attacks from the west and east, shelling the city's port with mortars and artillery.
Misrata is the only big rebel stronghold left in the west of Libya and it is cut off from the main rebel force fighting Gaddafi's troops in the east. It has been encircled and under bombardment for weeks.
Western aircraft and missiles have been increasing their raids on government positions in Misrata.
Saadoun said there had been heavy shelling as tanks advanced from the coastal road towards the city while the port and areas around it were shelled with mortars and artillery.
"It seems his [Gaddafi's] focus now is Misrata," he said. "He pulled his forces out of Ajdabiyah and Brega so that he can put all his weight in attacking Misrata and winning so he can control the whole west versus losing the whole east."
"This means a massacre after massacre in Misrata and today we saw its first chapter."
Rebels backed by coalition air strikes retook the strategic town of Ajdabiyah yesterday. Libyan rebels also said they had seized control of the oil port of Brega, but there was no independent confirmation.
Snipers on rooftops
A resident said pro-Gaddafi snipers were still shooting at people from rooftops in the centre of Misrata and that the death toll among townspeople during the past week had reached 115 people, including several children.
"Gaddafi's men are still controlling the eastern and western gates of the city of Misrata. Snipers continue to target civilians," the resident said by phone.
"They are located on the rooftops of buildings downtown in the city … We've had 115 killed during the past week."
Reports from Misrata, Libya's third-biggest city about 200 km (130 miles) east of Tripoli, could not be verified.
Libyan officials say the rebels are armed gangs linked to al Qaeda who are holding the people of the city hostage.
Accounts from people in Misrata portray a city where the sound of artillery fire and automatic weapons rings out every few minutes.
Doctors at the clinic being used as a makeshift hospital say they are so overwhelmed by the numbers of wounded they have to operate in the corridors and people who have had limbs amputated are sent home to make room for new patients.
One video clip posted on the Internet and identified as coming from Misrata showed a children's hospital with a large hole blown in the wall and, inside, baby incubators covered in concrete dust and debris.
Misrata residents also say they are facing a humanitarian crisis with dwindling food, and water supplies and electricity now cut off. Libyan officials deny deliberately cutting power and water to the city.
Aid agencies were able to bring in supplies via Misrata's Mediterranean port earlier this week but it is uncertain if they can deliver more because control over the port has see-sawed between the rebels and pro-Gaddafi forces.
Around the Web