Persons living on the river defence reserve at Herstelling, East Bank Demerara say they have nowhere to move to as they anxiously waited yesterday to see whether authorities would evict them.
The Central Housing and Planning Authority (CHPA) a week ago, on March 22, served the squatters with a one-week notice to move. The letter, titled 'Notice of Contravention of the Town and Country Planning Act, Chapter 20:01 Laws of Guyana," informed that the CHPA, in pursuance of all powers vested in it under the provision of the Act, "hereby call upon you to cease/ dismantle with immediate effect all unauthorised development" and remove within seven days.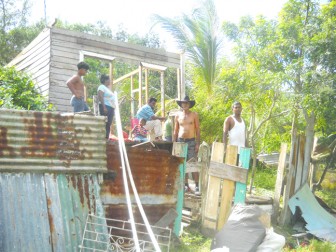 The letter said that should they not do so, the CHPA would enforce the provision of the Town and Country Planning Act and dismantle the illegal structures. The authorities have been trying to get the squatters to move from the critical river defence and some have been allocated house lots and have relocated but others are still to be granted lots. Others have been allocated lots but say they cannot afford to move. According to the residents, they have been waiting for years for their house lot applications to be processed.
Several have lived on the reserve for over a decade. Some who are yet to be allocated lots said that they have applied at the same time with others who were given lots but they do not know why they have not been allocated any and officials at the Ministry of Housing are unresponsive to their queries.
"Dem tell we dem gon give we house lot this year March," said Seenarine Mohabir. "We willing to move if we get we house lot," he said, a statement echoed by many others. But some who have been allocated lots and have not moved say they need assistance to do so. According to them, they were promised assistance in this regard but none has been forthcoming and they are unable to afford the cost.
Last Friday, several residents went to the Ministry of Housing but officials there did not respond to queries and told them they were on their own, some said.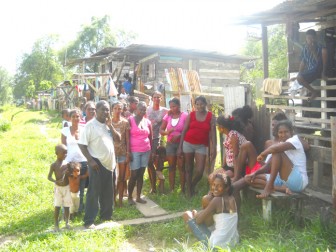 They said that they were told to return tomorrow. "We nah get lot, where we gon move and live?" questioned one resident. "We willing to move yes but where we gon go?"
A number of residents, mostly women, several of whom were pregnant, spoke with Stabroek News yesterday and said that they have lived there for a number of years. "We nah want million dollar land cause we can't afford to pay," one said. "Abhe asking [President] Bharrat Jagdeo to help we, abhe nah get money."
Among the women were Kaloutie Seegobin, Indira Persaud and an elderly woman who said she had nowhere to go. Debbie Seenarine said that her husband died last year and she is now a single parent with five children to care for. She has lived on the reserve for ten years. Several other women said that they were yet to be allocated house lots, but they would raise the money somehow to pay for it.
One woman, Rita Mohammed was dismantling her home yesterday and said she was moving to Parfait Harmonie where she was allocated a lot. She said that many were banking on a promise by the authorities of assistance in moving but the official has since denied that assistance was promised. "Why you think people living here for? They can't afford to rent no other house," she said.
Dindyal Persaud said that he visited the Ministry of Housing yesterday morning and was told that they cannot help him and he has to move. He said that since last year he was interviewed for a lot but is yet to be allocated any.
The welder noted that he had two children, a one-year-old and a three-week-old baby. "I willing to move but I have nowhere to go," he said.
Around the Web