Relatives of Kevin Poulis this morning found his remains just below the surface of the creek he had gone to on Sunday.
According to his distraught mother, Melinda Seales a search party had just returned to the scene when the teen's head was spotted just below the water sometime after 8 am.
Seales said that she is looking for answers as the circumstances surrounding the death of her only child are suspicious.
She added that an uncle who was part of the search team was told by members of a household living nearby that on Sunday night they heard screams.
Two persons who were among those who accompanied the teen to the creek are still being questioned by police.
The body is at the Lyken Funeral home awaiting a post-mortem examination.
He was a student of the South Ruimveldt Primary School and a resident of 'E' 20 Guyhoc Park.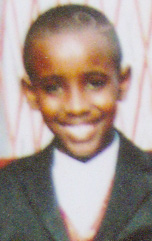 Seales told this newspaper last evening that the police had held the driver of the car that transported him to the Aziza Akousa resort.
A woman who had also travelled in the car was detained.
According to the grief-stricken mother, the two gave police conflicting information.
She said that at one time, they said he came out of the water and gave them his expensive boots to keep and did not see where he went thereafter.  According to Seales, they later said that they saw the boy, who is her only child, heading towards the road.
Relatives resumed searched for the teenager on Sunday and again yesterday but came up empty-handed.
Poulis's friend, Leyland Edwards, recounted that they along with another friend were playing ball in the creek and then decided to come out of the water.
He said they were relaxing when his mother asked if they wanted food and after responding in the negative they returned to the water.
Edwards said he only realized Poulis was missing when he went to ask him if he was ready to eat. Edwards said no one saw Poulis come out of the creek and they immediately started to look for him. He said they searched the water and searched the area nearby.
Around the Web