Crime prevention advisor to the United Nations, Canadian Peter Faulhaber was shot on Sunday afternoon after he scuffled with bandits who robbed him while he was walking on the East Coast Demerara seawall.
The 56-year-old former policeman of Oceanville, Bel Air, Georgetown said he was thankful that the bullet he took in his thigh missed his artery. He is a patient of the Georgetown Public Hospital and may be flown overseas for further medical attention.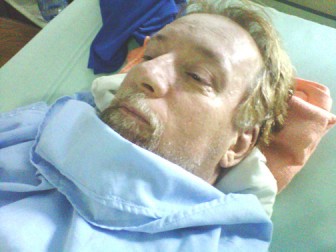 Police were yesterday no closer to finding the two bandits who escaped with the man's iPod.
In a press release police said they were investigating the incident which occurred around 18:00 hours on Sunday, during which Faulhaber was attacked and robbed by two men, one of whom was armed with a firearm.   Investigations revealed, the release said, that Faulhaber was walking along the seawall when he was confronted by the perpetrators who demanded his iPod. Faulhaber resisted and was shot to his right thigh by the armed man who then took away the iPod and escaped along with his accomplice.
When Stabroek News visited the hospital, two British volunteers were tending to the wounded man who was conscious and in pain.
He recounted that he was on his usual evening walk on the seawall and had reached the formerl service station at Bel Air. He said that on his way back "two fellas jumped me" and during a "very, very short scuffle", he was shot. He said that everything was over in a few seconds.
Faulhaber who was a policeman for 26 years in Canada said that some kind passersby went to his assistance and he was able to borrow a belt to tie off the wound so that the bleeding could stop.
"I was thinking that my artery was possibly shot through and  I didn't want to bleed out," he recalled adding that he begged "the kids to carry me to the curb and then someone flagged down a car and I got into the car and some very kind kids, teenagers drove to the hospital."
The UN adviser who has been here since early March said that the incident left him more angry than shocked. He noted that the incident occurred before 18:00 hours which meant that there was light. He added too the bandits were brazen as there were cars and people around. Faulhaber insisted that the men had to be after the iPod he was listening to.
"Maybe I shouldn't have advertised because I had my iPod in my hand and that was the reason why they stopped me I think and then they ran off," he said. One of the perpetrators jumped on a bicycle while the other got away on foot, he recalled.
He said he was in a lot of pain especially when the wound had to be cleaned out. He explained that the bullet passed through his thigh. "When the bullet passed through it was hot so they had to clean all that out and it was unbelievably painful," he said stressing that he had never been shot before.
Faulhaber said that his wife, Mary, who arrived in Guyana one week ago, was to have gone with him but did not because she was feeling unwell.
He said that he was usually on the seawall around the same time every day and the possibility existed that he was being watched, but surmised that it could also have been a random attack as the perpetrators were after his gadget.
May return home
Faulhaber said Sunday's incident has left him contemplating giving up his post here and returning to his native land. "Oh yeah of course [I am thinking of going home] all those thoughts ran through my mind but I am assigned to do some work and I will do my best to do it." He said that in addition to his work with the UN, he is also doing some work for Caricom along with "a few other things so I don't know. The jury is out."
He said too that he may have to be medivac-ed out of Guyana and this might mean a setback for his work here. He told Stabroek News that his head office in Vienna had been advised on the incident and "will figure something out".
He told this newspaper that it was ironic that he had fallen victim to crime given his experience as a policeman and adviser on crime prevention. "It just stares you in the face with the irony of the whole thing but I fell victim to something that happens a lot around here anyway," he noted.
Asked if it was his training as a policeman that saw him in defence mode, Faulhaber said that he didn't see the gun until it was too late. He said initially he thought the men were unarmed and he could have fought them off, especially since it was only two of them.
"The minute I saw the gun, it just went bam, it was that quick," he added.
During the interview with Stabroek News, the Canadian thanked those who helped him after he was shot. He described the efforts of his rescuers as amazing pointing out that during the journey to the hospital, one of the teenagers was on his cellular phone asking his mother for advice.
He said that a parent of another of his rescuers followed up on the incident and even went to his home to inform his wife.
Meanwhile, his wife Mary was calm when this newspaper saw her at the hospital. She, like her husband, thanked the driver of the car that transported him to the hospital and the driver's mother for their kindness. She said she had been planning to stay with her husband until his time in Guyana was up. This incident has now put a damper on her spirits.
Around the Web