Relatives of the No. 64 Village rice farmer are convinced that he was murdered after the results of a post-mortem examination proved that he died as a result of a severe fractured skull.
They said too that the police have arrested a suspect who Gyara Shurtti Chunnillal, 28, was reportedly last seen with before his demise.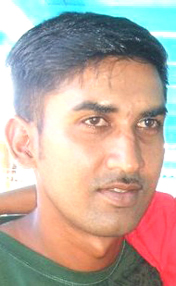 Pathologist Dr. Vivikanand Brijmohan told Stabroek News that apart from the right side of the skull being severely fractured, there were also fragmentations of the bones. Dr. Brijmohan, who also happens to be a relative, said that Chunnillal's motorcycle, which had fragments nearby, was found on the dam while the body was on the road. He said there are suspicions that the man could have been hit on the dam.
His helmet also has a crack, indicating that "the impact had to be with significant force." The body also bore scratches on the shoulder blades and abrasions on both wrists, according to the doctor.
He said the police received information around 11 pm on Monday that the injured Chunnillal was lying on the No. 70 Village public road. They arrived at the scene and took him to the Skeldon Hospital in an unconscious state. He was subsequently transferred to the New Amsterdam Hospital (NAH).
Relatives had initially told this newspaper that they learnt that he was taken to the Skeldon Hospital around 1:30 am on Tuesday. A close 'family-friend,' Reshma Dhanai, had said that he was on his way home on his motorcycle after visiting friends and relatives when the incident occurred. Relatives arrived at the NAH around 4 am and shortly after they learnt that he had succumbed to his injuries. She said that Chunnillal and his two-year-old son lived with his mother at Number 64 Village. He was preparing to migrate to the United States within the next three months to join his wife. His elder sister, Reshme Wyke who travelled from England after learning about her brother's death is pleading for persons to come forward with information.
"That was our baby brother; words cannot explain how we are feeling at the moment. We want to know why he had to die that way…," she told Stabroek News last evening. "Give us a reason so we can have peace of mind… we know that he can never come back." She lamented too that, "The way how he went is a nightmare. We knew something was not right… surely somebody must have seen or heard something."
She said her mother who has been "devastated" since her brother's death, told her that he left home around midday on Monday to check on his cows in the backdam. She learnt that after he came out he "hung out for a little…"
His son wanted to go with him to the backdam, she said, "but he told him he would [go alone] and come back… but he never did. The child slept with his father and keeps crying for him and saying that he is still in the backdam."
The woman said she last spent time with her brother when she visited one year ago. She told this newspaper too that their father died when her brother was 17-years-old and that "he worked so hard."
Around the Web