Minister of Health, Dr Leslie Ramsammy has warned that self-diagnosing malaria is a dangerous practice yet people continue to do it and according to him, the sale of malaria medicines in the private sector has become a thriving business in the hinterland areas and in Regions 2, 4 and 10.
Self-medication is affecting the local fight against malaria Ramsammy said yesterday while pointing out that many of the drugs which people purchase rather than going to health care facilities, might be useless.
The ministry recently conducted studies with the help of PAHO/WHO and USAID and surveyed 45 pharmacies and shops in regions 1, 2, 4, 7, 8, 9 and 10. Some 77 specimens of anti-malarial artemesinin-based medicines were examined; the tests were done in the USA.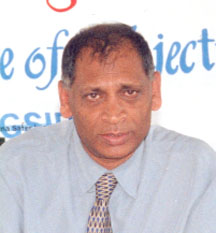 Ramsammy said the survey showed that 53% of the medicines (44 out of the 77) failed one or more of the quality assurance tests done.  In addition, in all instances, he said, the medicines were found to be stored in inappropriate conditions which might make them less effective. "… even when the medicines passed the quality assurance test, the storage conditions would have rendered them ineffective in curing malaria," he said.
"We are concerned at the Ministry of Health that people sometimes choose not to see a health care provider and self-diagnose. Many persons having become less fearful of malaria, self-medicate. This is a dangerous practice," Ramsammy said in a press statement.
The health sector has strong and effective medicines for the treatment of malaria, he continued saying that all the medicines are available from the public sector and are free. However, they can only be dispensed after a diagnosis is made. He also stressed that all the medicines procured by the Ministry of Health are from manufacturers licensed to manufacture these medicines and all the medicines have undergone rigid quality assurance testing before being procured.
The minister said too that all importers of medicines are required to ensure that the medicines they import have been tested and approved for sale, adding that importers of the medicine are encouraged not to bring in artemesinin monotherapy into Guyana.
"One of the encouraging sign from the study is that the previous practice of importing monotherapy artemesinin seem to be reducing as more than 64% of the pills were combination pills, with artemesinin and other malaria medicines in a single pill," Ramsammy observed.
He added: "We urge importers to discuss with us and seek advice as to where to buy medicines and what kind of medicines to bring in. It should be noted that the anti-malaria medicines found in these shops do not adhere to the National Treatment Guidelines for Malaria."
As the sector continues to fight against malaria, he said the number of cases is just around 10,000 annually. According to Ramsammy, the sector has had to struggle to ensure malaria does not get out of control again.
Further, he emphasized that control of malaria depends on the cooperation of all stakeholders. At present, most (more than 90%) malaria cases come from Regions 1, 7 and 8. There are some malaria cases in parts of Regions 2, 9 and 10.
Malaria cases in other regions are rare, Ramsammy said, pointing out that the cases treated at the GPH are almost always coming from one of the malarious regions.
Around the Web