Nirmala Sugrim, the fish vendor, who was injured after the car she was travelling in collided with a minibus on Wednesday morning last, has been transferred from the High Dependency Unit to the Female Surgical Ward at the Georgetown Public Hospital (GPH).
When this newspaper visited Sugrim yesterday, the vendor related that she was told she would have to undergo surgery. The woman, who cannot recall what happened to her on the day of the incident, said she was not told on what part of her body the surgery will be performed, nor was she told the reason for such.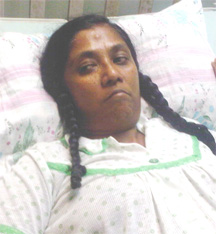 Sugrim was sitting in the front passenger seat of the vehicle, when it was hit by the front of the bus, and she suffered broken ribs and injuries to her back and neck.
The driver of the vehicle the vendor was travelling in is a frequent visitor to the patient, but so far no word has been given to Sugrim or her relatives on if she will be compensated for her injuries. The driver had sustained injuries to her neck as a result of the accident, and was treated at the Woodlands Hospital and sent away. On the day of the incident, she had stopped and offered Sugrim a lift to the marketplace, as they were heading in the same direction.
It is understood that the car was travelling along Princes Street and had crossed High Street when it was hit by a Route 31 minibus.
Around the Web