Prime Minister Samuel Hinds has lauded the opening of the Kalyan Centre and Shopping Plaza as a place where devotees can practice their religion and persons can learn about Hinduism.
He was speaking at a commissioning ceremony hosted on Saturday.
According to a Government Information Agency (GINA) press release the "multi-dimensional complex" will host a number of cultural, social and religious activities. It was built by the Guyana Sanatan Dharma Maha Sabha.
A shopping plaza was established in the centre in order to ensure that it is self sufficient and generates income to carry out activities to sustain Hinduism and address social ills. The plaza comprises 21 outlets that have been rented to facilitate the sale of food, clothing and craft. The Plaza will be opened to the public on Friday.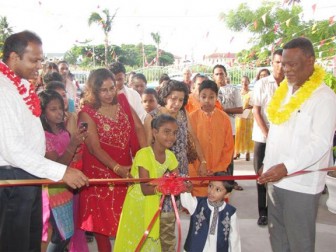 In his address Hinds, who was performing the duties of president, said he hopes that the building will continue to be a place where the Hindu religion, the practices and the rituals can be maintained and also a place where these will be presented to any Guyanese who may wish to learn and be consoled and comforted by it. Minister of Culture, Youth and Sport, Dr Frank Anthony said he was very pleased that the organization has decided to utilize the first and second flats of the building for commercial activities in order to create jobs. He then congratulated the organization on making the Plaza a reality. Member of the Building Committee, Keeraj Bissessar extended gratitude  to everyone who contributed to making the Plaza a reality.
Prime Minister Samuel Hinds (right), performing the functions of President, Minister of Culture, Youth and Sport, Dr Frank Anthony (left) and members of the Maha Sabha cut the ribbon for the opening of the Kalyan Centre. (GINA photo)
Around the Web