The Working People's Alliance (WPA) yesterday called on the PPP "to cease using the name of Walter Rodney to score cheap political points".
The WPA, in a release, said that it had noted the attacks on Dr Rupert Roopnaraine by the PPP and some of its supporters in the state media, since the announcement of the formation of A Partnership for National Unity (APNU).  The WPA is part of the APNU along with the main opposition PNCR, GAP, the NFA and the GPP.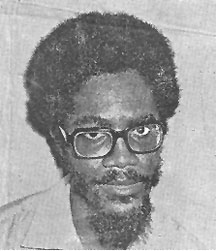 According to the WPA, "the use of Walter Rodney's memory to disparage the WPA and Dr Roopnaraine, in particular, is at best cynical."
"It is also hypocritical, coming from a party which repeatedly described Dr Rodney in unflattering terms while he was alive and even after his assassination," the WPA said.
The WPA also hit out at the government for its failure to conduct an inquiry into Rodney's assassination "even after the passage of a PPP parliamentary resolution that was supported by the PNC but, astonishingly, abstained on by the PPP itself."
"WPA's decision to be part of APNU is a collective decision that is premised on our long held view that Guyana can only move forward with a government that represents and is accountable to all of its peoples," the release said.
"Rodney represents the best in Guyanese and Caribbean political culture and should be out of bounds for those who have come to represent the worst of that political culture. It is nothing short of desecration," the WPA said.
Around the Web