Sir James Mitchell, former St. Vincent and the Grenadines Prime Minister, has brought a team of investors in sustainable forestry who are interested in Guyana, GINA reported last evening.
The team from the F.T.I Timber Growth Fund Limited, a European-based company operating in Roraima state, Brazil, includes Board Chairman Marcus Valentine and Operations Consultant John Edwards among others.
Sir James, according to GINA, said that he is fully aware of Guyana's forest protection policy and the national scale forest payments scheme which it sealed with Norway that earned the country US$70M.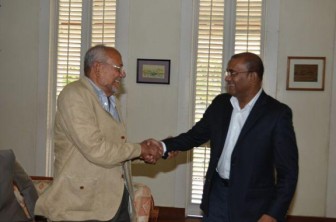 The company upholds a reputable standard of internationally certified sustainable forestry practices and has been a licensed operator in St Vincent and the Grenadines for about 10 years, the release said.
They operate on a concession of several hundred thousand acres in Roraima and have submitted an application for a licence to operate in Guyana.
The strategy is based on the principle that Guyana's rain-forests can be arranged strategically to battle climate change, without having any effect on national development or its sovereignty over the forests, the release said.
Around the Web