Four  persons are now dead and several persons are injured after a speeding minibus suffered a tyre blow out and toppled several times on Homestretch Avenue earlier this evening.
Dead is Coretta Benjamin, the head teacher of J E Burnham Primary School; her daughter Crazel Paul, 8;  Peter  McLennon and a man who is yet to be identified.  Colin June, Ranisha Benjamin, Delicia Paul and brothers Michael Lutchman and Anthony Lutchman are also among those injured and presently at the Georgetown Hospital.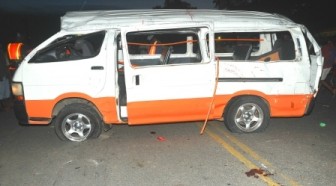 According to reports, the Route 48 minibus (Sophia/Georgetown) bearing number plate BMM 9888, was heading to town when it turned from Sheriff Street onto Homestretch Avenue.  The speeding bus, then attempted to overtake a car on the inside when the back right wheel "blew out" causing the vehicle to topple several times.
The driver of the minibus is now in police custody.
Benjamin was the first to be pronounced dead. Her daughter Crazel, who was celebrating her eighth birthday today died at the hospital while undergoing treatment. Mclennon passed away while in the Operating Theatre.
Around the Web