Thirty-five adults and children with disabilities from five Region One communities along with their relatives participated in a march aimed at raising awareness about rehabilitation services offered at the Mabaruma Regional Hospital.
According to a press release from the hospital, the event was coordinated by Regional Health Officer Dr Nigel Langhorne and Rehabilitation Assistant Dexter Bourne, with assistance from Peace Corps volunteer Ilana Stewart. It was held under the theme, 'Making Rehab Services more visible in Region No 1' and aimed at raising awareness about rehabilitation services available, and highlighting issues faced by persons with disabilities, thereby giving the community an opportunity to meet their needs.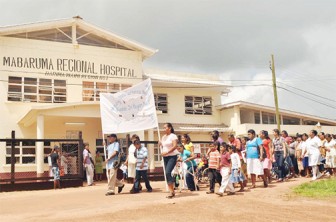 Bourne said the hospital's goal is to "Give people a better understanding of the different disabilities children and adults face and their right to services in this region and throughout the country."
The march culminated at the Mabaruma Recreational Park, where there was an hour-long ceremony that included an address by Bourne, a musical performance by Peace Corps volunteer Nathaniel Stewart and a finger-painting activity for persons with disabilities.
"I am really happy that my son and I were able to participate in this event and to see so many supportive parents," White Water resident Edward Harris, the father of a 15-year-old differently-abled boy, said.
He also said he was "especially happy" that the hospital provided physical examinations for all persons with disabilities as his son had never been examined.
After the march, the hospital hosted a two-day examination and screening exercise, including eye and ear tests, dental screenings and treatments and vaccinations. Twenty-seven children and eight adults were treated.
"This is just the beginning, we are actually walking, working and learning together…this is progress," Dr Langhorne said.
He added that the regional health department will continue to learn about the prevalence of these disabilities throughout the region and it has trained 10 community health workers to conduct basic screenings. "Our success in dealing with these health issues will be determined by continued ventures such as this event throughout the region," Dr Langhorne added.
Around the Web