A 46-year-old woman has gone missing since June 8 and relatives believe something is definitely amiss since it is unlike her to go away without contacting any of her relatives.
Basmat Anantram, of Sea Well, Corentyne, Berbice was last seen on June 8 by her husband before he left some time around midday to look after their cows. Reports are that when the man returned home about an hour later, Basmat was nowhere to be found.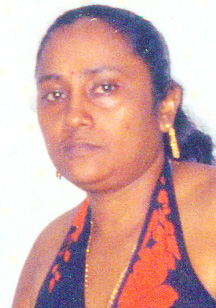 The woman's relatives explained that her husband migrated to the United States of America about 6 months ago and was here on two weeks vacation when she disappeared. He returned to the USA two days after the incident and has not called since to enquire about her, a relative said.
The relative further stated that the couple, who were together for about 28-29 years, experienced few problems and prior to the man's migration had not really spent any time apart. The two shared the home and Basmat was a housewife who cared for livestock.
The relative added that she was very close to her family and if she was experiencing problems, she would talk to them about it. "She and her sister very close. Maybe if she wanted to cool off, she woulda call her or something. She never even called her daughter," the relative added.
The relative said that after a month of searching for the missing woman, nothing has been found. She stated that nothing was taken from the woman's house, "mo clothes, no passport, no ID card, nothing. Everything is still there. It doesn't seem like she left on her own free will because she woulda take something."
Neighbours were questioned on whether or not they noticed anything strange on the day of the incident but no one could be of assistance. "No one ain't see her and the neighbours down there are very close. It's a small village," the relative related.
Relatives were under the impression that the woman would show up, but after waiting a while a report was finally made to the police some time last week.
Around the Web