The policeman who was struck down and killed while investigating an accident at Bartica on Sunday, was due to return to his home the day before—but his plans changed after he was told he was being transferred and had to remain in the area until Monday.
Delian Forde's father, Junior Benjamin, told Stabroek News that his son had planned to return to his Blue Berry Wismar home on Saturday.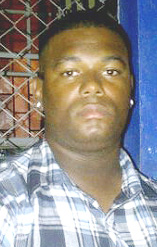 Forde, 21, and his girlfriend, Benjamin said, had already reached Parika on Saturday when his son received a telephone call from his sergeant, informing him that he was being transferred to the Tactical Service Unit, at Police Headquarters Eve Leary.
Since he only had some of his belongings in his possession at the time, Benjamin said Forde decided to return to Bartica to get his suitcase. According to Benjamin, after Forde's arrival back in Bartica, the sergeant told him that he could not leave until Monday morning, when he would be relieved.
Benjamin pointed out that Forde did not work on weekends. "It bother he. He say man if I got to wait, I'll wait," the man recalled his son telling him.
The grieving man said that he called his son that night and Forde complained of a severe headache.
Early Sunday morning, Benjamin recalled that one of his son's friends informed him that someone had contacted Forde about an accident and he went out to help with the measuring. It was during this time he was killed, Benjamin was told.
"He ain't no traffic police! How you gon call he fuh go and measure out thing?" he questioned. He noted that later when he saw his son's body in the morgue, there were no indications that a truck had run over it.
Benjamin said that he also inquired from the rank in charge at Bartica about the person who called Forde that night. He was told it was a friend from the Gold Board, but according to Benjamin, he later learnt that it was someone from the bank who called him about the accident.
He expressed concern that $100,000, a bank card and other documents belonging to Forde are missing. He explained that the money was neither on his person nor in his house where a person/s unknown had gone and removed clothing and other items.
Police said the accident occurred around 2:40 am on Sunday, at Third Avenue and Sixth Street, where Constable Forde was investigating an accident involving two cars. It is reported that the driver of motor lorry, GNN 5940, who was speeding, failed to stop at a stop sign along the roadway and collided with a motor car. As a result, he lost control of the vehicle and struck down Forde, Tamaldeo Heeraman, 55, and Davina Seeram, 31, both of Third Avenue, Bartica. They were taken to the Bartica Hospital, where Forde was pronounced dead on arrival while the other two were admitted patients.
Forde's remains are at the Lyken's Funeral home and a post-mortem examination is expected to be performed today.
Meanwhile, police officials said yesterday that the truck driver who struck down and killed Forde is still in custody and will be charged shortly. This newspaper was told that the driver could be making a court appearance as early as today.
Around the Web