The Guyana International Relief Organisation (GIRO) and the Greenheart Medical University (GMU) recently organised blood donation drives, in response to the Ministry of Health's urgent plea for blood, after stocks ran low.
GIRO organised blood drives at Cotton Tree, West Coast Berbice, where 43 units were collected, and at Providence, East Bank Demerara, where 32 units were raised.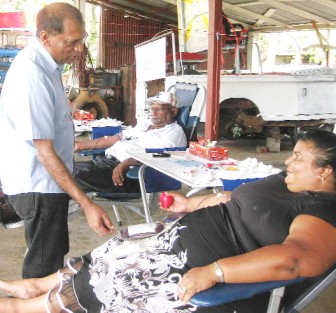 The Cotton Tree drive was held at Dhanan Gas Station and was organised to assist with the shortage of units at the National Blood Transfusion Service (NBTS).
Members of the D' Edward mandir also assisted GIRO, an arm of the Guyana Islamic Trust, to recruit donors.
Minister of Health Dr. Leslie Ramsammy was present during the exercise and offered support and encouragement to donors. He said that blood donation drives are becoming important because they would add to the 8,000 unit target for the year.
He noted, though, that even that amount may not be enough as all the hospitals improve and do more surgeries.
Prior to the blood drives being organised, Ramsammy said many people would not have become donors unless a relative was in the hospital and needed blood. He was confident that once persons are properly sensitised, they would become donors wholeheartedly.
The minister mentioned that on a recent Friday night the blood bank had only 28 units of blood for the entire country.
The minimum amount needed on a regular day is between 20 and 30 units of blood and for that reason the blood bank needs to keep a buffer stock of about 120 to 150 units to ensure that enough of the right type is available.
Ramsammy was grateful for the good response from the voluntary donors after the appeal was published in the media. "It has kept us going but it has not removed the discomfort that we don't have any for the next day," he said.
Meanwhile, staff and faculty of the GMU yesterday made donations, as part of the Health Ministry's Good Samaritan programme.
The GMU, in a statement, also said that the activity would be repeated quarterly as it was one of the institution's efforts to support the ministry's National Health Plan.
The GMU noted that 10,000 units of blood are needed a year, but only 7,500 are actually collected, representing 1% of the total Guyanese population, through voluntary donation.
A donor must be over the age of 17 and weigh more than 110 pounds.
Around the Web