US-based Guyanese businessman Ed Ahmad was arrested in New York on Friday on mortgage fraud charges and was released on bail of US$2.5M according to yesterday's edition of the New York Daily News.
The report said Ahmad, who runs a real estate business in New York, was arrested by the Federal Bureau of Investigation and then released on bail. The details of the mortgage charges are not yet known. A number of real estate operators, including Guyanese, have been prosecuted in New York in recent years on mortgage fraud.
Ahmad, in recent months, has been relocating his business to Guyana from New York amid reports that he faced legal troubles in the US. He has set up a hardware business at the Industrial Site premises of the Mirror newspaper.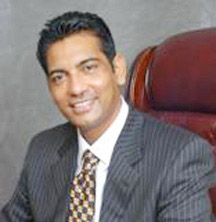 Ahmad also came under scrutiny in relation to a US$40,000 loan made over three years ago to NY Congressman Ed Meeks. That transaction also brought Meeks under the scrutiny of ethics committees.
The Daily News said that Ahmad had no comment on his arrest yesterday.
The Daily News report said Ahmad was hit with a criminal complaint alleging that he conducted an extensive scheme to commit mortgage fraud, regularly lying about applicants' income and using straw buyers to hide his involvement.
His lawyer, Steven Kartaganer, declined to discuss whether Ahmad was in discussions with the FBI and the Brooklyn US attorney before his
arrest.
Questions had been raised as to why the Mirror – semi official organ of the PPP – would rent its premises to him given the questions that had been raised about him in the US. Ahmad has cultivated close ties to several leading members of the PPP/C .
Last year, the New York Daily News had reported that a government watchdog group had asked the Office of Congressional Ethics to probe the US$40,000 loan Meeks received from Ahmad.
Citizens for Responsibility and Ethics in Washington (CREW) asked for the review following a series of Daily News articles about the loan. Meeks publicly disclosed the January 2007 loan for the first time in May, 2010.
He acknowledged he had failed to properly report the loan on House disclosure forms the previous two years, calling it an "oversight."
The Daily News later reported that Meeks repaid the loan shortly after the FBI started asking Ahmad, originally from the West Demerara, about the money he lent to the congressman. Sources say the loan had no interest rate, no collateral, no repayment schedule and no due date. Meeks said that there was a 12.5% interest rate on the loan.
A complaint filed by CREW accused Meeks of violating House ethics rules by failing to properly report the loan or get required approval before accepting it. The letter calls the loan an improper gift.
Around the Web