The National Library and the University of Guyana Library were the recipients of book donations from Canada-based auditor Lal Balkaran.
Balkaran, a member of the Institute of Internal Auditing and Fellow Member of the Chartered Institute of Management Accountants, made the donations at two separate ceremonies. He donated 300 books to the National Library and 40 books, valued US$2,500, to the University Library.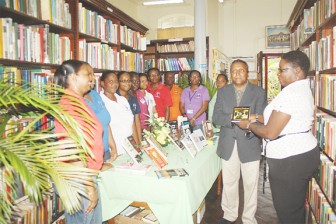 Speaking at the handing over ceremony at the National Library Conference Hall, Balkaran said the books were on different subject areas, such as politics, the Indigenous people, photography, business and accounting. Balkaran has written six books and has just concluded one on the history of Guyana which is part of the selection donated to the library. He said he felt a sense of satisfaction because books are the keys to opening the world to the individual. He explained that his main objective is to enhance and enrich individuals about "who they are and where they live."
"A house without books is like a house without windows," Balkaran added.
Deputy Chief Librarian Emily King said the books were a valued addition and she looked forward to having more materials from Lall's work.
Meanwhile, Balkaran's donation to the University Library included books on business management and accounting. These books, he said, would add new dimensions, new insight and value to courses the students at the University are pursuing. Balkaran also noted that he would continue to make donations once he keeps returning to Guyana.
Dr Marlene Cox, the Deputy Vice-Chancellor of UG, noted that Balkaran "is a person the University considers a true friend… a friend of education and a friend of development." Cox thanked him for his support and his commitment to continuing with it.
As part of his trip, Balkaran also completed a two-day workshop at the Regency Suites Hotel on auditing.
Around the Web