Police are investigating Tuesday's night hit-and-run accident at Crane, West Coast Demerara that left a mother of three dead and a teen girl hospitalised.
Kaishri 'Nanda' Persaud, 26, of Lot 10 Crane, Old Road, died while being transported to the West Demerara Hospital, while Trisha DeFreitas, a United States-based Guyanese, suffered several broken bones.
The vehicle which struck them, reportedly a Pathfinder that was driven by a female, swerved off the road, pitching DeFreitas into a trench while Persaud was left lying face-down on the road. The vehicle, eyewitnesses said, sped off.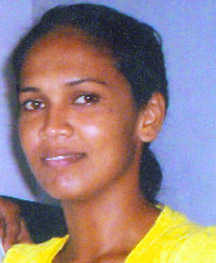 Police yesterday said that an investigation is ongoing.
Meanwhile, according to DeFreitas, she had gone over to her neighbour Persaud and asked that she follow her to a nearby shop to purchase a phone card. The  girl said as they were walking home, in the company of another friend, called 'Harry,' who was riding a bicycle alongside them, she was looking down, focusing on her cellular phone. She explained that as she lifted her head, she saw a bright light coming towards them. DeFreitas was unable to recall anything further.
Harry had earlier explained that after noticing the approaching vehicle, he managed to swerve out of harm's way as the vehicle, upon impact, pitched DeFreitas into a trench while Persaud was left lying face-down, after reportedly being run over by the vehicle.
The young man related that he was stunned for a moment but subsequently started looking for DeFreitas and rescued her from the trench. The two injured women were taken to the West Demerara hospital by two passing cars. According to sources, Persaud succumbed before arriving at the hospital. It was also reported that the medical team at the hospital attempted to revive the woman but failed.
DeFreitas' mother, Rose, told this newspaper that after hearing the news, she made her way down to the hospital and at the time her daughter was awaiting medical attention as Persaud was the main focus of the hospital's staff.
At this point, Rose had taken the decision to have her daughter transferred to a private hospital in Georgetown but said she refused to leave without Persaud, as they were neighbours but lived like family.
"I was telling them I ain't going until I get both of them but de boy tell me to take my daughter to the hospital because she can't breathe and she hollering her head spinning," the distressed mother recalled.
The woman said she was unaware of Persaud's death until reaching the Demerara Harbour Bridge, on her way to the Woodlands Hospital.
"The person who hit them… I want them to know that there is a God and whatever goes around must come around. Don't they have any compassion? They didn't even stop to see what happen…they just drive off," Rose stated.
Meanwhile, Persaud's family, according to Rose, up to press time, were in the process of arranging the first night's wake. Her two older children, ages 8 and 6, were seen running playfully in the yard while her husband, Terry Persaud, sat disconsolately looking on. The couple are also parents of a nine-month-old baby. "It is very hard for the family… I came and met the two of them when I came to live here in 2000," Rose stated.
Rose further stated that Nanda was a housewife and a very good person. "She was very helpful… anything she woulda do for me and not only me, anybody. She was very friendly to everyone in the village," the distressed woman added.
The woman related her daughter's uncontainable emotions as she said DeFreitas had been crying all day, since she too was very close to Persaud.
On the night of the accident, the teen was mournfully saying, "I shoulda never ask she to follow me to the shop."
Rose explained that her daughter, who returned to Guyana to celebrate her mother's (Rose) birthday last week, would spend more time at Persaud's home than her own. "Every time she in Guyana, she is deh running over there. She is go and play with them children or is always Nanda leh we go out or leh we go and take a walk," she said.
Around the Web