Amid a surge in fatal accidents, an East Coast Road Safety Steering Committee was yesterday set up at Lusignan.
According to the Government Information Agency, the development came at a meeting hosted with the community by Minister of Home Affairs, Clement Rohee and senior police officers.
The objective was to listen to suggestions on how to improve road safety. The National Road Safety Council (NRSC) also participated in the meeting. GINA said that the steering committee will relate to the NRSC on safety needs.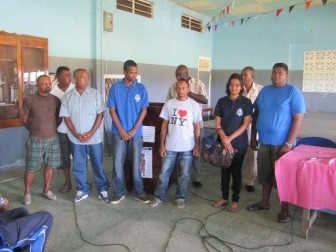 "Among the suggestions by drivers were the establishment of bus stops to facilitate the easy (disembarking) and (embarking) of passengers, a standard dress code for drivers and conductors to distinguish them from other commuters and the monitoring of rum shops for potential drunk drivers.
Concerns were also raised about stray animals especially during the night and young cyclists improperly using the roads", the GINA release said.
Speaking on the suggestions, Divisional Commander of the C Divison Deryck Josiah said the 'Bus Stop' suggestion was a good one.
In terms of the suggestion to monitor rum shops Josiah said that the ministry has already been putting plain clothes police at rum shops to observe persons to ensure that those under the influence do not drive.
According to GINA, members of the road safety steering committee include mini-bus drivers Akbar Khan and Gopaul Singh, hire car drivers Naseer Khan and Jamir Mohamed, private car drivers Nerema Balkissson and Mark Ramjit, Supervisor of Police of the Cove and John Police Station Brian McKenzie, and traffic safety engineer in the Ministry of Public Works Nigel Erskine and Administrator of the National Community Policing Group, Dennis Pomey.
Similar discussions and road safety steering committees will be facilitated countrywide, the release added.
Around the Web