A house collapsed at Christianburg, Linden on Sunday night. Homeowner Ann Morrison left home in the evening to work a night shift as a security guard at Christianburg Primary School. However, shortly after 11pm, her eldest son, Dingo, came running to the school.
"I got confused when I saw him coming and panicked, because I wanted to know what happen," she said. She alerted her superiors and rushed home to discover her 30 Bruce Alley, Christianburg house flat on the ground and most of her belongings shattered and scattered in her yard.
Morrison said that her son explained that he and a friend were playing a video game in the house when it fell. "He said that they barely jump through the window and only got a few scratches," she added. Fortunately, three of her sons, 11, 12 and 17 year olds, were all away on holiday, while another, who is 18, was out. The woman's great aunt, a pensioner, also lived in the house, but she too was out at the time of the collapse.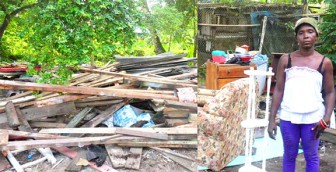 An alarm was raised and neighbours came out to render assistance. Others came out after they heard the thunderous sound of the housing crashing down. "It was a good thing dem other children ain't went home," a close relative of the family said.
With no place to go, Ann and Dingo spent the remainder of the night in their yard. The woman said that she lived in the house since she was a child and now, at 40, she had acquired almost all the amenities that made life for herself and her children comfortable. "I worked so hard to get all these things, now most of them broken up. But thank God for life and with his help I will be back on my feet," she said.
Morrison noted that the unfortunate situation occurred at a time that she was struggling to cut all corners to acquire the necessities for her children to return to school next month. "I would really need some help, especially for them right now," she said.
Up to press time, with the help of neighbours, Morrison was trying to knock up four walls and a roof, so that she could have a safe place to rest. The items that were still intact remained covered in the yard.
Around the Web