President Bharrat Jagdeo yesterday said young people need to look back at the country's history, in order to defend its current progress.
"If you do not have a sense of how far we have come, then there will be nothing to defend because you will not see the progress made," he said at the Impress Youth Expo, organised by the Youths for PPP/C group at the International Convention Centre, at Liliendaal, East Coast Demerara.
Addressing thousands in attendance, Jagdeo's focused the opening of his speech on the history of the rule of the British colonists and later thePeople's National Congress, while saying youths today need to know their history if they are to make conscious decisions about the future of the country.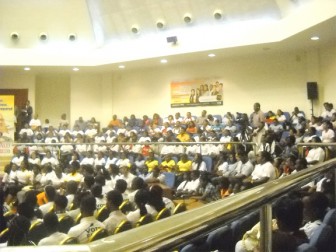 He painted a dismal picture of a Guyana where "you could be jailed for cooking the wrong pot," while also noting the absence of wheat flour and other basic food items carried today in all food stores. He said the PNC's time in office was "an era where there was no democracy," and where the country became one of the most heavily indebted in the world, with 94% of its income going towards servicing debts. He said too that there was not one good road and power outages lasted for weeks.
The president highlighted areas that he felt his administration had made progress on, saying "People don't have to belong to a political party to obtain jobs."
Jagdeo also used the forum to take digs at the two main opposition parties' presidential candidates, stating that in a world on the verge of global recession it is imperative that Guyana puts in place as a leader someone with a firm economic background, alluding to his party's presidential candidate, Donald Ramotar, who was in attendance. "In this period ahead of us you can believe that we need someone with economic training at the helm, like Donald Ramotar… not someone running a law firm [AFC candidate Khemraj Ramjattan] or magazine [APNU candidate David Granger]."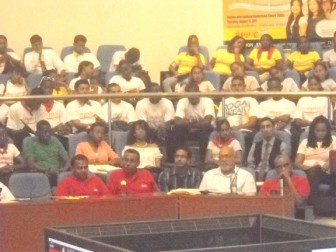 Stabroek News was also not spared from Jagdeo's criticisms for what he dubbed misguided reports. "We have some backward people. I saw Stabroek News saying we shouldn't give people computers [and that] people don't need computers, if we give them computers they will watch pornography… it's these people, every one of them I'm sure who all have computers in their home  but don't want you to have computers, because you will watch pornography," he said.
Jagdeo lauded the Expo's organizers and stated that the attendance was evidence that the youth of today recognised the need of their input in the planning of a democratic society. He explained that he would have spoken both in capacity as the president and as a concerned youth, passionate about the involvement of young persons in issues relating to their community and the country at large.
He implored youths to be active members of society and object whenever they saw any form of discrimination meted out to another.
Youths interviewed at the Expo hailed from Berbice, Linden, Essequibo and Georgetown. One young man, who came from the Pomeroon, said he went because he was invited by a member of his community. He said that he wanted to give a voice to the indigenous people of the area, who are gifted craft-wise but have no markets for their products. He hoped to seek government's help in accessing markets.
Other reasons given by participants as to their interest in the expo were to hear about employment, technical-vocational courses available to youths in Linden, land ownership and healthcare. Others informed that they went for "the free bus ride" or "de walk."
The feedback from audiences in the breakout sessions was no different. Persons voiced frustration at how unappreciative Guyanese society is of art and artists, the lack of employment opportunities for youth, localising the learning channel, the deplorable state of roads, distance learning, University of Guyana loans, among other issues.
Other activities at the expo included information booths by various government ministries, the One Laptop Per Family (OLPF) project and the National AIDS Programme Secretariat.
Organizers concluded that the expo was a huge success and look forward to the same participation at other events they will host.
Around the Web