A series of workshops are underway to strengthen the organisation of Community Policing Groups (CPGs) countrywide.
The first of the workshops, which target volunteers holding the posts of secretary and assistant secretary/treasurer in CPGs, was held in Linden on Saturday. It was organised by the Ministry of Home Affairs in collaboration with the Public Service Ministry and the National Community Polic-ing Group (NCPG).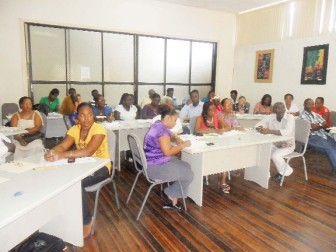 Minister of Home Affairs Clement Rohee, who delivered the main address, noted that while the positions in the CPGs are voluntary, there is need for their modus-operandi to characterised by responsibility and professionalism. "Some persons who were elected for these positions were placed there without any homework being done," he said, adding that "There are some who have a fair knowledge, so try, but there is a need to add that element of professionalism."
Rohee also noted that several persons have volunteered their service to the groups without a clear understanding of their roles and function. "CPG members need to know about the constitution because this is what makes the group effective," he said. The minister also noted that CPGs need to be properly organised in order to function and address issues affecting community members.
The one-day programme touched on topics including the role and function of a secretary; preparation of various correspondences; report writing and records management. The workshop was facilitated by Roxanne Bharrat, of the Public Service Ministry. Others from the national body who attended the meeting include National Admin-istrator of CPGs Dennis Pompey and National Chair-man Godfrey Washington.
The workshop, held at the Linden Business Centre's Conference Room, drew participants from CPGs from Bartica, Kwakwani, Ituni, Aroaima, Muritaro, and Linden.
Around the Web