A US federal grand jury in Brooklyn, New York today returned an indictment charging Guyanese businessman Edul Ahmad with participating in a mortgage fraud scheme in which he and others fraudulently obtained more than US$50 million in loans.
The indictment alleges that Ahmad conspired to defraud financial institutions, including Bank of New York, JP Morgan Chase, Citibank, N.A., Countrywide Financial, Flushing Savings Bank, Fremont Investment and Loan, HSBC Bank USA, N.A., IndyMac Bank, One West Bank, U.S. Bank, and Wells Fargo & Company, and wholesale mortgage lenders, including New Century Mortgage Corporation and Ocwen Financial Corporation. Ahmad is charged with one count of conspiracy to commit bank and wire fraud and 10 counts of bank fraud, according to an FBI press release today.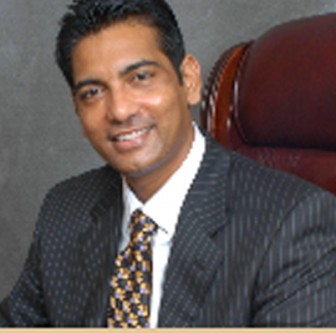 The indictment was announced by Loretta E. Lynch, United States Attorney for the Eastern District of New York; Janice K. Fedarcyk, Assistant Director in Charge of the Federal Bureau of Investigation, New York Field Office; and Jon T. Rymer, Inspector General, Federal Deposit Insurance Corporation. Ahmad's arraignment was scheduled for later today before United States Magistrate Judge Andrew L. Carter, Jr., at the U.S. Courthouse, 225 Cadman Plaza East, Brooklyn, New York. The case has been assigned to United States District Judge Dora L. Irizarry who has sat in several high-profile cases involving Guyanese including that of drug lord Roger Khan.
Ahmad, who had been arrested by the FBI in New York on July 22 as he was preparing to board a flight to Guyana, is accused of a series of fraudulent practices including falsifying loan applications. He was later released on a bond of US$2.5M. Today's indictment will supersede the  previous case against him.
The FBI release said that as detailed in the indictment, from 1995 to 2009, "Ahmad was a licensed real estate broker in the state of New York and also acted as a loan officer. As part of the alleged scheme, the defendant submitted false loan applications and supporting documents to make borrowers of mortgage loans appear to be more creditworthy than they actually were. The defendant did that in order to profit from real estate commissions and loan fees generated by the transactions. Additionally, at the closings, Ahmad prepared and submitted documents that falsely misrepresented whether the borrowers actually made any payments to the sellers and understated the amounts of Ahmad's real estate commissions and loan fees. In doing so, Ahmad prevented the financial institutions from discovering that his fees exceeded those permitted by the institutions. Many of the homes involved were ultimately lost in foreclosures because the borrowers could not afford to make their mortgage payments."
Speaking on the indictment today, US attorney Lynch said "Mortgage loans allow millions of Americans to turn the dream of home ownership into reality. The system must be based on the accuracy of its information and the integrity of its members. The defendant allegedly brought neither to the table, abusing the trust of the financial institutions who relied upon him. We will vigorously prosecute licensed professionals who abuse their positions and harm our communities by undermining financial and real estate markets through mortgage fraud."
FBI Assistant Director in Charge Fedarcyk said in the release, "By repeatedly filing false mortgage applications, Ahmad allegedly committed serial bank fraud. Such falsehoods are not merely lies, they were the modus operandi in essentially stealing almost (US)$50 million. The FBI remains committed to investigating mortgage fraud."
FDIC Inspector General Rymer stated in the release, "The Federal Deposit Insurance Corporation, Office of Inspector General (OIG), is pleased to join our law enforcement colleagues in announcing the indictment of Mr. Ahmad for his alleged role in this multi-million dollar bank fraud. It is especially important to investigate and prosecute cases where trusted professionals abuse their positions to undermine the integrity of the financial services industry. We are committed to preventing such threats to the safety and soundness of FDIC-insured banks throughout the country."
The release said that if convicted, the defendant faces a maximum term of imprisonment of 30 years. The indictment also seeks the forfeiture of the proceeds of the defendant's bank and wire fraud activity, including a criminal forfeiture money judgment and money traceable to the offences of conviction.
The government's case is being prosecuted by Assistant United States Attorney Alexander A. Solomon.
Travel
Ahmad had been denied permission to travel to Guyana by a New York court on July 29.
His attorney Steven Kartaganer had told the court that Ahmad was needed in Guyana to seal an important real estate deal. However, his application to travel was opposed by US Attorney Solomon
The New Post in its report had said that Ahmad's "close ties" with Guyana were among the objections raised by Assistant US Attorney Solomon in opposing the businessman's request during a hearing in Brooklyn federal court.
Kartaganer had earlier told the court that Ahmad was a personal friend of the current president and the past president.
The Post report noted that Ahmad is a frequent visitor to Guyana and is known in the country as a friend of President Bharrat Jagdeo. The Post said that the relationship appears to transcend friendship to involve business interests.
It said that in 2009, the Ahmad Group sent building supplies – including roof tiles and kitchen sinks – to Jagdeo at state house in Georgetown, according to shipping records. Jagdeo is in the process of building and furnishing a new house at Pradoville 2.
The report said that despite his posting of a US$2.5M bond, the US attorney was of the view that Ahmad – if granted permission to travel out of the country – could choose to remain in Guyana to avoid a New York fraud trial.
Judge Steven Gold agreed, and denied the 43-year-old businessman's request to travel – citing the fact that Guyana has no extradition treaty with the US.
The Post report said that allegations of predatory lending, forged documentation, falsified mortgage information and missing records have dogged Ahmad for years.
Meeks
Ahmad had also come on the US radar over a loan to US NY-D Congressman, Gregory Meeks in 2007.
Earlier this month, a bipartisan ethics committee of the US Congress announced that it is to probe Meeks over the `loan'. Meeks is already under investigation by the FBI over the loan.
The New York Daily Post reported on August 6 that the Meeks probe is focusing on possible criminal charges for Meeks' failure to report the US$40,000 payment from the businessman in 2007 that investigators say appears to have been an illegal gift. Meeks had claimed it was a loan and had only paid it back after it was exposed.
The report said that the bipartisan Ethics Committee announced on August 6 that it would investigate Meeks over the transaction and it released an investigator's report that roasted Meeks for being uncooperative with the probe.
The investigation will try to determine whether Meeks "failed to disclose a payment he received in 2007 in a timely manner," the panel announced in a statement.
The New York Daily News said that Ahmad also refused to cooperate with the congressional investigators.
The mortgage fraud probe of Ahmad and his role in the Meeks loan have raised uncomfortable questions for the ruling PPP/C. Ahmad was listed as a contact person for the recent PPP support group's hosting of presidential candidate Donald Ramotar in New York. He has also been able to set up a business on the site where the PPP previously printed its Mirror newspaper. The terms of that deal are not known. Ahmad was also able to successfully tender for a large swathe of land at Leonora on the West Demerara. President Jagdeo has also disclosed that Ahmad has been a friend of his for 15 years.
Following his arrest in New York and his placing on a bond of US$2.5M, it was revealed that Ahmad had consigned 29 containers of material to Jagdeo at State House. It is yet to be explained what those materials were and questions have been asked as to if the relevant taxes were paid.
Around the Web