An overseas-based organization with ties to Linden has given a boost to the electronic capacity of the Linden Museum of Industrial, Socio and Cultural Heritage (LMISCH) by furnishing them with a computer system complete with printer and scanner, valued in excess of $500,000.
The computer system was handed over to LMISCH's Curator Judy Gravesande-Noel on Wednesday by a member of the Linden International Reunion Association (LIRA) at a ceremony at the museum on Co-op Crescent, Mackenzie, Linden.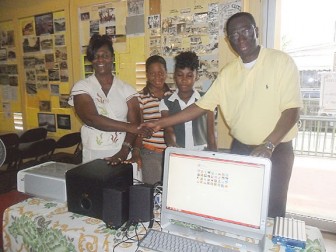 And according to LIRA member Dr. Raynold Lewis, the organization is ever committed to playing its part in the development of various aspects of the Linden community.
It was during a visit to the Linden museum last year by some of the organization's members that Gravesande-Noel identified the need for the equipment.
Considering the wealth of information stored in the small facility, and realizing the urgency of having most of the information further preserved electronically, the team committed themselves to furnishing the museum with the computer system.
On hand to receive the donation were Vice-Chairman of the Board of Directors of the LMISCH, Horace James and Gravesande-Noel who all  expressed their gratitude to the group.
"This new system will be up and running here very soon to ensure that we preserve this invaluable library of historic photographs, documents and artifacts."
The museum is now able to share information with the wider world since they successfully acquired wireless internet service, yet another kind gesture of a donor agency.
In addition to the donation, LIRA has been making several significant interventions in the Linden community, including  a four-day mathematics programme for teachers being held at the Egbert Benjamin Conference Centre. (Cathy Richards)
Around the Web