Up to 11 am today, just over 100 Guyanese passengers were still stranded by Caribbean Airlines (CAL) at the John F Kennedy Airport, New York – some of them having been at JFK for more than two days -and they are now being told they may not get on a plane until midnight today.
The announcement at the airport around 10.30 am today sparked a wave of chanting and protests by the passengers but it appears to have had little  impact on CAL which has made a series of promises which have not been met.
CAL is also not providing accommodation for the passengers as it claims that area hotels are all booked up, passengers told Stabroek News.
The Guyanese had been bumped from a scheduled flight on Monday with the promise that they would be placed on a direct charter to Guyana.
Outraged passengers, including some who had been booked on weekend flights that were cancelled due to Hurricane Irene, accused the airline of showing preferential treatment to those belonging to other regional territories, as they continued to await word on when they could travel home.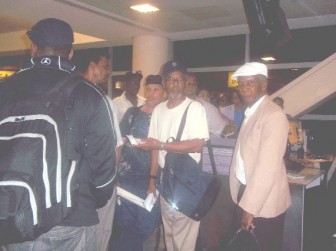 The aircraft chartered by the airline to make the direct flight developed mechanical problems, passengers were told. By that time, the flight had already been rescheduled three times, from 2pm to 5pm and later 6:30pm.
Airlines officials told passengers that the aircraft CAL chartered to ease the swell of passengers travelling to Guyana had encountered mechanical problems and was being serviced. Initially, the airline would only say that the aircraft was being inspected before shifting the departure time for the flight.
Attempts were made yesterday to get an official comment from the airline on the situation, but no response was forthcoming.
Crowds, among which there were tense exchanges between passengers and airline officials, converged at the airline's check-in counters at JFK, revealing the major setbacks the forced weekend shutdown in New York City had on the travelling public, including many vacationers eager to get home.
"This is unacceptable! Caribbean Airlines is the most dishonest airline I know!" a passenger retorted when an airline representative urged agitated passengers to calm down. His plea came minutes after a second flight left the airport bound for Port-of-Spain.
Passenger Leila Parris summed up her experience as "disappointing" and she criticised the airline for failing to communicate with passengers travelling to Guyana. "It's the silence…they ain't telling us nothing!" she said.
Pointing to young children on the flight, including his two children, as well as senior citizens, Mahendra Persaud accused the airline of having no regard for Guyanese. He had been at the airport from 11 am yesterday but pointed out that some passengers "were there much earlier."
The airline offered some passengers a US$10 voucher; no general announcement about the payout was made. However, many persons said they had no interest in the airline's money and were only concerned about leaving JFK airport.
"This is ridiculous. There are so many adjectives I could use to describe what is happening here but this is just ridiculous!" Milton Bruce declared. He also said that the airline would leave Guyanese stranded while facilitating passengers travelling to other Caribbean destinations.
Bruce vowed never "again, not ever" to travel on Caribbean Airlines; a declaration which many others made in addition to a call for a Guyanese –owned carrier.
Guyanese
"Every person sitting here since yesterday [Monday] afternoon is a Guyanese; they bumped us off our scheduled flight and told us we would be on a straight flight to Guyana. And as we sit here a gate has not even been allotted to us and we are seeing no information on this flight," a frustrated passenger stuck at the airport with her young daughter told Stabroek News.
The passenger said she approached the airline's supervisor at the airport and was informed that the employees there were just following instructions from the airline's head office in Trinidad, where all the decisions are made.
The passenger said the situation got very chaotic as the Guyanese observed that flights continued to leave for Trinidad, Jamaica and Grenada while there was none scheduled for Guyana. Four men bound for Guyana became so frustrated that they requested their luggage back from the airline representatives but this request was refused and the men got angrier and raised their voices. This resulted in an airline representative calling in the police and while some of the men walked away, one of them stood their ground and told the police officers that they had assaulted no one and all they wanted was their luggage. One of the officers tried to defuse the situation and informed the passenger that the airline was under tremendous stress and that there was not much he could do. The police were called once more when some female passengers got angry and were using profanities to express their frustration.
"But the airline is not having a difficult time, flights have been leaving for Trinidad, Jamaica, Grenada and Antigua but no flights to Guyana!" the angry passenger exclaimed.
PPP/C MP Bernard De Santos SC was among those stranded and one passenger expressed the view that he should have gotten on to someone in government here for some action to be  taken.
She added that one of the passengers contacted a reporter from the New York Daily News but when the reporter arrived, he was told he could not enter unless he had a ticket. De Santos told the passengers if the reporter was allowed in, he would speak to him and he suggested that a class action suit could be filed against the airline.
Beyond ridiculousness
"This situation is going beyond ridiculousness. I have not slept in 24 hours. My eyes are like sandpaper. I am stink, as I have not had a bath since yesterday (Monday), and I am just frustrated," the passenger said.
She revealed that the airline gave passengers US$8 for breakfast, which can only purchase a muffin and coffee and US$12 for lunch which can be spent at Mc Donald's.  The passengers have to get rid of the liquid before they return to their seats because no liquid is allowed in the departure lounge. She pointed out that the airline has made no accommodation for them but instead has passengers sleeping at the airport. Passengers are afraid to leave the airport as they are not sure when a flight may leave for Guyana. "I will never spend my hard earned money on another Caribbean Airlines ticket," another passenger commented.
A13-year-old boy is among those who have been stranded at JFK airport for the last two days and his worried father contacted this newspaper and said his son is frustrated and afraid. "I just get the opportunity to talk to my son and I could have just cried he sounded so helpless…this is just not fair. We know Caribbean Airlines can't do nothing about the hurricane but why they treating other Caribbean people better than Guyanese?" the man asked.
He added that his son told him that all he has been given from the airline were vouchers for the last two days, but he is more interested in when he could fly to Guyana. The father said he was told that as the airline announced that the flight would no longer be leaving for Guyana at 2 pm a flight was announced leaving for Trinidad.
"The people get angry, my mother-in-law said, and start to behave bad because is only Trinidad and Jamaica people getting to leave and no Guyanese…," the man said.
He said he was informed that in the 24 hours prior to midday yesterday, two Caribbean Airlines flights arrived here from Trinidad with just a few persons who travelled from Trinidad.
"It mean that they left New York with just Trinidadians and no Guyanese so when everybody come off in Trinidad, is a just a few people who coming to Guyana from Trinidad get on the plane," the man lamented.
He stressed that something needs to be done as Guyanese are forever taken for granted and no one has respect for them, and especially the airlines.
CAL
CAL had an advisory posted on their website which did not address the situation of the Guyanese.
It read as follows: "Caribbean Airlines wishes to advise that further to the resumption of scheduled flights to and from New York as of 6.00am on Monday 29 August, the airline has already begun to transport passengers who were inconvenienced due to the weather situation in New York over the weekend.
"Thirty-four (34) Caribbean Airlines and Air Jamaica flights were cancelled due to this disruption. The airline has already put on 8 extra flights system wide to accommodate persons who were affected by these cancellations and have already moved approximately 1500 passengers. Additional aircraft will be leased to continue to assist our passengers and our scheduled flights continue to operate.
"All passengers are reminded that our check in facility will be closed one (1) hour before scheduled departure. Caribbean Airlines understands the inconvenience at this time and we are working with the resources available to be able to clear the backlog which is spread throughout the region."
Around the Web