A mother's worst nightmare came true when her eldest daughter and only grandson were brutally slaughtered by gunmen targeting three men who were travelling in a car at Cummings Lodge, East Coast Demerara.
Today marks one year since this heinous crime that was the beginning of a bloody streak that in total claimed the lives of eight persons.
Kamla Singh relives this horror in every waking moment and while she may never get justice it distresses her that police keep saying that her daughter and grandson were "in the wrong place at the wrong time".
Around 19:35 hrs on September 4 last, police received a report of a shooting at Second Field, South-East Cummings Lodge and on investigating found motor car PLL 2297 with several bullet holes and the bodies of Steve Jupiter called `Steve man'; his girlfriend Fiona Singh and their three-year-old son, Neil Jupiter, along with Christopher Gordon and Sherwin Jerome called 'Dice Head', inside.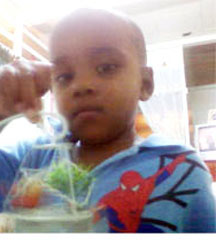 Initial reports are that Jupiter, who resided at Industry, East Coast Demerara went to pick up Singh and the toddler from a relative's home in the area and as they were driving out persons opened fire on them.
An eyewitness had told Stabroek News that two cars had been parked on the dark roadway for several minutes.
So far police have made no breakthrough in the investigations and though a barrage of wanted bulletins were issued, charges are yet to be laid against a single person. According to Crime Chief Seelall Persaud there have been no new developments in the case.
Recently Stabroek News spoke with an emotional Singh and her sister Sunita Singh; both of whom called on the police to work hard to catch the killers.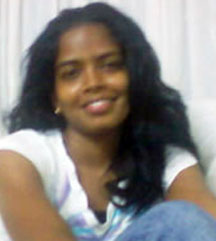 Fighting back tears, Singh said that police have never contacted her nor have they taken a statement. She recalled that shortly after the incident she turned up at the office of Police Commissioner Henry Greene looking to get some justice. During a meeting with him, she said tearfully, "he told me that they were in the wrong place at the wrong time". Since then Singh, said she hasn't heard from the police.
The grief stricken woman said she is surprised at the scant interest being paid to the case especially since a three-year-old boy was among those slain.
"Minister Priya Manickchand so care for children and they said they can't do nothing about it cause its drugs and they care for children," she said, adding that if the gunmen had any feelings for children they would have shown the mother and child out of the vehicle before riddling it with bullets.
With tears rolling down her cheeks, she expressed belief that had she been "a person with money to pass", she would have gotten answers by now. "As long as you have faith in the Lord, God will see you though," she said
Every day is a sad day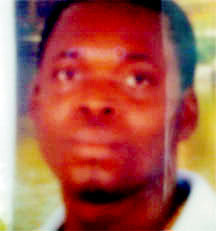 Singh informed Stabroek News that recently she along with Jupiter's relatives visited the scene for the first time. In honour of their memory, the families will be erecting a cross with the five names at the spot at 5 pm today.
Asked why she took so long to visit the scene of the shooting she responded that the anniversary was fast approaching and "everything is like so fresh, I decide to go and make a visit". She said she spoke to residents but they were unable to give her any information. According to the residents, they saw nothing.
"My daughter didn't die there and my grandson died at the hospital but my son-in-law [Jupiter] was a very good person," she stressed. She said too that a thanksgiving ceremony will be held.
"Everyday does be a sad day for me. Everyday does be the worst.  Me and Fiona had a very good relationship, she was the best child for me and he was my only grandson," she added. Tears flowed as she recalled fond memories of the child.
"I loved that child more than anything. I need justice you know. To the police let them do their job because I think a lot of police know what going on and a lot of big ones know what going on and I need police to do their job in the right way and I need justice. He was just 3 years seven months when he died and because of drugs linking I cannot get no justice," she cried.
Meanwhile Sunita Singh said she is surprised that nothing has happened in the case since from the beginning "a lot of things were said and links were made".
She called on the President and Manickchand to step in and ensure that justice is served.
"We are talking her about a kid. It is not easy but we gotta be strong and it is something we gotta try and live with," she said. She recalled that her niece and her son were both very good people.
"The child was like an angel in this house. It's like we are empty. I can't begin to tell you the pain my sister is feeling."
Drug link
Persaud told Stabroek News during the interview that the link is still drugs. The Police Commissioner at a press conference had told reports, that seven kilogrammes of cocaine that went missing may have fuelled the deadly attack. He had explained that the information was that one of the slain men collected nine kilogrammes of cocaine which came from Venezuela and was to hand it over to a "certain group". However, only two kilogrammes were delivered and the man claimed that the rest had been seized by the police, Greene had said, adding that this story was apparently not believed.
When quizzed about this, however, Persaud said he had no information that the drugs came from Venezuela. "What I know it to be drug traffickers fighting each other."
Singh, as well as Jupiter's relatives, said they were peeved at the allegations that were being made.
The emotional Singh told this newspaper that if police are making such a link there must be evidence and from that evidence suspects should have been held and charged.
She recalled that during the meeting with the Commissioner, she reminded him that he said the Jupiter was a paid "hit man" and questioned him as to why this "hit man" was still walking the streets. She recalled too that Greene said that a brand new AK-47 was used during the attack.
At Jupiter's Front Road residence, relatives said that had he been what the police painted him to be, they would have been better off.
"All them thing that Commissioner saying we suppose to be living good now," his sister Natasha Jupiter said. She said too that the two eldest of Jupiter's children had to drop out of school so as to help provide for the younger ones and themselves.
Another sister Alana Alleyne expressed surprise that "nothing ain't come out of this investigation because they ain't hold nobody for it. It seems like he wasn't a human being. We want to know what going on. We never heard from the police on this matter".
The young woman said it was unfair for police to make all those accusations without producing evidence. "I ain't surprise that the police would do something like that," she said before expressing the opinion that they might never get justice. Yet another disgruntled sister Amanda Marshall said, "these stains does happen to plenty people who dead. Police does always do this. These people will never be caught".
She said she had a good relationship with Jupiter, who was a loving son, brother and uncle. She said she had not seen him for several months and he was supposed to pick her up from the airport the same night he was killed.
According to Marshall, he was the sort of uncle who was always there for his nieces and nephews particularly at school time.
Their brother, Dexter Marshall, was charged with the murder of Mark Caesar. Caesar and Jupiter were said to be close friends.
Caesar was shot dead execution style, on the night of October 1 as he stood at his usual Broad and Adelaide streets liming spot. Caesar, 31, of St Stephen Street, Charlestown, died while receiving treatment at the Georgetown Public Hospital. He suffered several gunshot wounds about the body in the drive-by attack.
Police had insisted that the Cummings Lodge slaying, the Caesar killing and the execution of two men in Campbellville were all linked.
Stabroek News was unable to contact the relatives of the other two men.
Around the Web